The Economic Wellbeing team at the International Rescue Committee (IRC) in Salt Lake City plays an important role in paving the path to financial independence for some refugees and new Americans in our community. One of the greatest joys is helping families through their first homebuying experience in the U.S. Since the inception of IRC in Salt Lake City's homebuying programming in 2019, sixteern families have successfully purchased homes in Utah. In recent months, we celebrated this success with the Shapoor family.  
Over the past year, major barriers arose for first time home buyers due to the housing crisis. Brady Adams, asset development coordinator for the IRC, comments, "It is important to keep perspective on the difficulty of buying a home. When you look at how many people are trying to buy homes, then throw cultural differences and barriers, the complexity of qualifying for a mortgage. The more into it you get, the more complicated it gets." This is why the IRC has two programs set up to support  homebuying  and asset development, both centered around helping families become financially independent.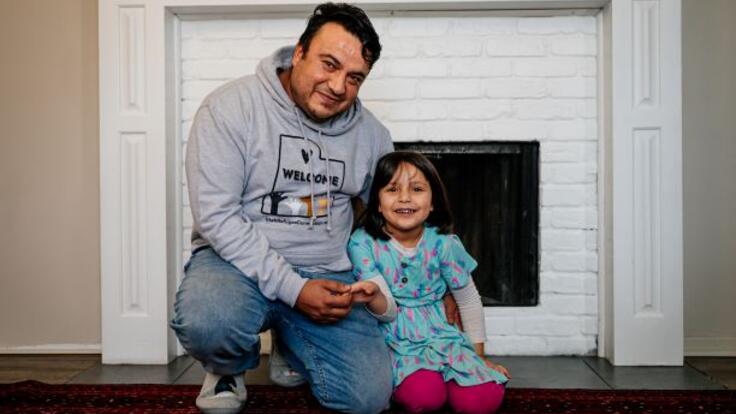 The IRC in Salt Lake City helps low-to-moderate income families save for large purchases through the Individual Development Account (IDA) program. Anyone who has arrived in the United States in the past five years can qualify for the IDA program, leveraging money they save to received matched savings funds for qualified purchases: $4,000  for a household or $2,000 for an individual to support a vehicle purchase, secondary education access, small business expenses or to help buy a home.  To be a part of this program and receive funds to purchase an asset, clients meet with Brady to develop a budget and savings plan, participate in required financial coaching classes, and follow the agreed plan to received matched savings. The IRC's Down Payment Assistance (DPA) program aids any immigrant family who are residents of Salt Lake City in the low-to moderate-income bracket looking to buy their first home in the U.S. With support from the IRC's DPA program, refugees and other immigrants working to purchase their first home receive matched down payment assistance—similar to other assistance programs--up to $50,000 to help them remain competitive in the evolving housing market.    
Becoming a homeowner is a meaningful part of any person's life. For many arriving to the U.S. as refugees or immigrants, they have left behind family, friends and homes—places they expected to continue building a life before violence erupted. In the U.S., they are offered a fresh start but work hard to achieve ambitious goals, like owning a home in their new community. "This is a monumental effort and moment for anyone. For the programs that [the IRC in Salt Lake City offers], you have to below to moderate-income. How are people supposed to do this on their own when there are already additional barriers set before them?" said Brady. "It is really impressive that clients can manage their money so well. Families with five plus children, with both parents working, doing everything they can to start their lives here, and find a forever home for their families. These people are determined and dedicated."   
The Shapoor family utilized the benefits of the IDA program and received assistance from Brady along their homebuying journey.  The father [in photo] worked as a mechanic for a number of years and came to Brady to talk about buying a home: "We came up with a savings plan, and together, we were able to find a two-bedroom and one bath home for them. We were also able to work with a realtor who was a former caseworker at Catholic Community Services, who worked with us to squeeze our resources together."  
When the Shapoor family received the keys to their home, everyone involved was overwhelmed with emotions: "There was a lot of pride. I loved getting to see the amount of work we put in and seeing the pride in them. The father is an incredible man, he speaks five different languages and worked so well with the mortgage lenders. The family expressed deep gratitude for the work the IRC did and the team effort that was put into their new home."  
In 2022, Realtor.com notes that Salt Lake City's real estate market is going to be the most competitive city across the United States. The IRC's will continue efforts to maintain and expand the IDA and DPA programs to combat the effects of the housing crisis and provide critical supports for new American families working hard to achieve their dreams. This effort continues both through Brady's work and vital community partnerships with Neighbor-Works Salt Lake, Salt Lake City, and several mortgage companies who specialize in serving clients with who face language barriers and/or lack knowledge of the system.  
Supporters can help with this type of programing by giving through a one-time opportunity, or giving monthly here [Hyperlink]. You can also email [email protected] for specified giving to the Down payment Assistance program.