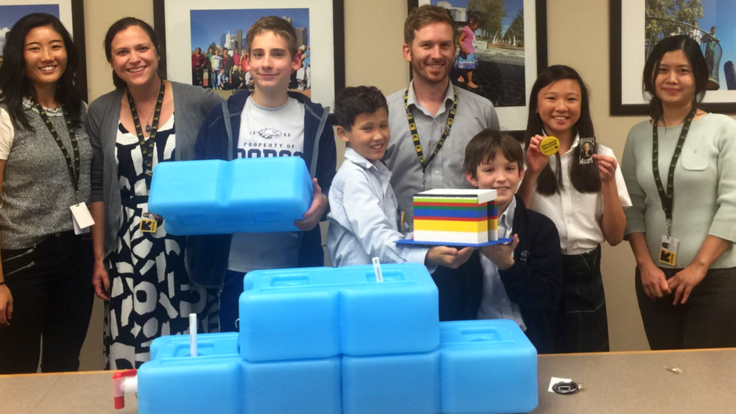 After a day of school work and athletics practices, four 6th grade students from Prince of Peace Christian School (POP) shuffled into the IRC in Dallas's office. Noah, Katie, Connor and Spencer were not only representing their school, but their FIRST® Lego® League Robotics team. Led by coach Travis Wright, The POP Warriors team is in its third year of this STEM-oriented program that focuses on researching, developing, and building innovative solutions to real-world problems. In addition to designing and competing in robotics based challenges, students must also create and develop a project that addresses a problem. This year, FIRST Lego League participants were given the challenge of "Hydro Dynamics," where they must identify a problem within the human water cycle and then design and share a solution.
After brief introductions, the team took the floor. From the start, their mission was clear. "The problem that we decided to solve was the lack of clean water in the refugee camps in Bangladesh," said Katie. The task they had chosen is incredibly complex, yet, one by one, the students presented their thoughtful plan for providing this vulnerable population with quality drinking water. Placing a small Lego hut next to some large hollow blue blocks on the table, the group described their strategy. Pointing to the bricks on the table, Noah explained, "We are planning to use stackable plastic water storage bricks to build a shelter that catches rain."
Just like in the small Lego structure next to them, the large bricks were capable of interlocking in order to build a wall. "The bricks will be infused with a tiny amount of silver and magnesium to help control bacteria," continued Connor. As a result, refugee families could utilize these blocks to construct their shelters and provide clean water for their families. Water would flow from their gutter and into the hollow blocks, trickling down from block to block, where a bottom block would be equipped with a tap. The students had researched the refugee crisis that has spilled into Bangladesh, its seasons and average rainfall, and average water needs for each family. They also completed a cost analysis, including production and transportation for delivered units.    
Following their presentation, IRC staff asked questions and some even shared their personal experiences on working in refugee camps along the Thai-Burma border. Thoroughly impressed, staff put together IRC goodies to send them off to their first competition.
Four weeks later, the IRC received a call from Coach Wright. The POP Warriors had won first place and were grand champions of their first round! According to Wright, "the project presentation was awesome - in a big part because IRC was so helpful.  It truly made a huge difference that you took time out of your day to allow the kids to present to you and gain valuable feedback and advice."  Since the Warriors did so well, they are able to skip the 2nd round qualifier and head straight to regionals.
On behalf of everyone at the IRC in Dallas, congratulations on your first round victory and good luck at regionals! Go Warriors!
Story by: Alex Laywell