In light of the global crisis for unprecedented numbers of displaced persons and refugees (70.1 million worldwide), we find it a great privilege at the International Rescue Committee (IRC) to be an integral part of the humanitarian efforts to provide safety, hope, and a new life to refugees. Utah remains committed to being a welcoming community for the world's refugee population, evidenced by the amount of support and interest the IRC in Salt Lake City received over the past year.
In response to a continued need to raise awareness about refugees and refugee resettlement, we formed a Speakers Bureau comprised of trained staff and volunteers committed to educating the community and advocating for refugees. You can request a speaker to attend your next event, whether it is a formal presentation or a brief overview of our work.
First, we ask you to review our Frequently Asked Questions listed below, then fill our Speaker Request Form in order to complete your speaker request. Once you have submitted a request for a speaker, our volunteer coordinator will follow up with more information and will coordinate a speaker to attend your event.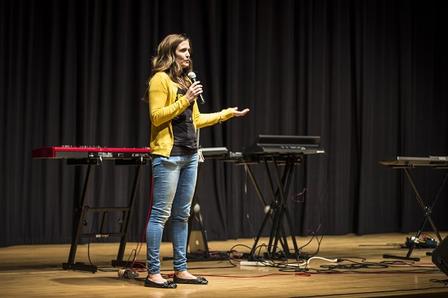 Speakers Bureau FAQ
Who will be confirmed to speak for my event?
A volunteer or staff member specially trained to be a member of our local Speakers Bureau.
What is the Speakers Bureau?
The Speakers Bureau was formed in response to the rising need to inform the community and raise awareness for refugees. Our local Speakers Bureau is comprised of IRC staff and volunteers who have varying years of service and experience with refugees and our organization.
Can you send a refugee to speak at my event?
No. We are unable to arrange speakers from the refugee community. A refugee's story is personal and one that is shared when chosen, not when requested. Members of our Speakers Bureau have personal experience working with refugees and are able to offer personal stories and insights to the audience that support their presentation. Additionally, we can provide quality video clips highlighting the refugee journey.
How far in advance should I request a speaker?
We prefer four weeks notice of a request in order to coordinate and confirm a speaker. We cannot ensure a speaker will be available if the request comes within less than four weeks notice. However, we may be able to provide a video package with materials so you can share information with your group.
How far is the IRC speaker willing to travel for the event?
We prioritize speaking engagements within Salt Lake County. We may be able to accommodate requests outside of the specified area with advanced notice or provide a video package with prepared materials so you can share information with your group.
What happens if I need to cancel, reschedule, or move the location of my event?
We understand that the unexpected happens. We ask that you notify our volunteer coordinator as soon as possible when you know a cancellation is necessary or if the event date or location changes. Please understand that we may not be able to coordinate a new speaker relative to changes on short notice or even with advance notice. In the event we can not coordinate another speaker for the event, we will offer you resources and materials to share with your group.
What happens if the IRC speaker isn't able to make it?
We assign two volunteers from the Speakers Bureau to each event: a primary speaker and a back-up speaker in case a cancellation occurs. If a last minute change takes place, our volunteer coordinator will be in contact with resources and materials that can be used in place of a speaker. Cancellations of this nature are rare and due to unforeseen circumstances. 
What is my commitment as the event organizer?
Depending on the event type, we may ask you to provide a projector, projector screen and laptop. The IRC Speaker will bring a flash drive containing presentation materials. If you are unable to provide requested resources, kindly let our volunteer coordinator know as soon as possible so we can coordinate with the IRC Speaker. 
Additional questions? Contact us at VolunteerSLC [at] rescue.org (subject: Speakers%20Bureau%20Inquiry) or by phone at 801-883-8456.