Welcome to the virtual experience developed to connect you to local refugee and new American artisans and entrepreneurs! Scroll down to see the individuals featured in the installation, and listen to their recorded stories.
Together We Welcome is an ode to tradition and cultures from around the world that arrived with people who now call Utah "home." Despite hardships and a long journey, refugees and other immigrants contribute to and enrich their new communities in the United States. This exhibit invites you to learn more about our newest neighbors and listen to their stories.  Community is achieved through radical welcoming and inclusion, rooted in uplifting and honoring one another as neighbors. With this sense of connection, new arrivals dream, achieve, and break through barriers. Celebrating each other strengthens our communities and ensures all remain welcome in the state of Utah.  
Walkthrough Event: 
Join us on Wednesday, February 15th from 4:30-6pm to attend a walkthrough of the installation. Engage with staff and entrepreneurs who brought the project to life, ask questions, and enjoy an evening celebrating the accomplishments of our neighbors. Sign up today »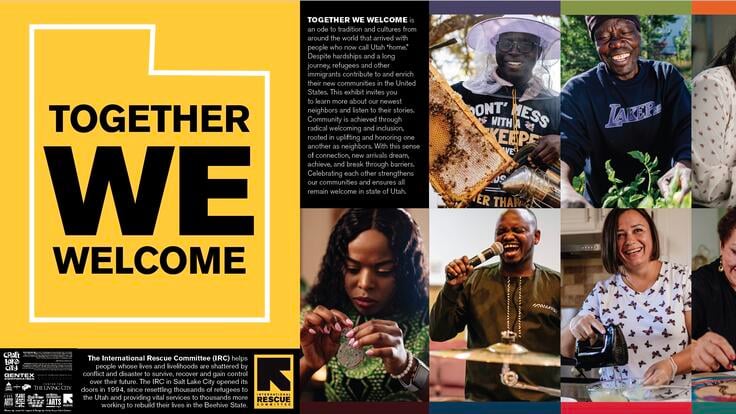 Together We Create
Support Raida by following @Raida_Jarjes on Facebook & Instagram.
Together We Embrace
Support Emile by learning more about the Emily Ndahunga Foundation at emilendahungafoundation.org.
Together We Thrive
Spice Kitchen Incubator and New Roots are programs of the IRC in Salt Lake City.
Learn more about Spice Kitchen Incubator: Follow @SpiceKitchenIncubator on Facebook & Instagram. Visit SpiceKitchenIncubator.org.
Learn more about New Roots: Follow @NewRootsSLC on Facebook & Instagram. Visit NewRootsSLC.org.
Together We Share
Support Jawaher by following @JawaherDesigns on Facebook.
Together We Cultivate
Support Daniel by following @beecraftconsult on Facebook & Instagram or by visiting beecraftconsult.tech.
Together We Design
Support Rispah by learning more at ZZOLARI.net.
Together We Taste
Support Olha and Mira by following @heartofukrainestore on Instagram.
Thanks to: