By: Michelle Borrego, Volunteer and Donations Coordinator, IRC San Jose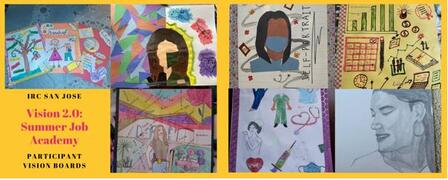 With Santa Clara County seeing a continued upward trend in daily positivity rates for COVID-19, IRC San Jose has remained in full-remote work since mid-March. As we delved deeper into the summer of 2020, this reality made us question the future of Vision 2.0: Summer Job Academy (hereinafter referred to as Vision). Vision is an immigrant-female empowerment workshop aimed at allowing participants to learn about different career paths, to reflect on their personal goals, and to work towards envisioning themselves achieving their goals. Typically, Vision is a one week day-camp style workshop that occurs in-person. Liberated of outside distractions, this style allows the participants to immerse themselves in the workshop and bond with the involved parties.
Our current reality, along with most of the world's, does not allow in-person gathering. It quickly became apparent that if we wanted to provide the highly-regarded program this summer, we had to innovate. So, we began planning and adjusting our former curriculum to provide the best program possible while following CDC health guidelines. In the end, we formatted Vision to be a one-week long Zoom workshop that would be offered twice to allow more participants to join.
As we counted down the days, we finalized enrollments for a total of 18 participants – the largest amount of enrollments for Vision to date. We assembled backpacks full of donations and curriculum packets for each girl, which were dropped off at their homes in a socially-distanced manner the week prior to the workshop.
Then the day for Vision's first session arrived. Eight immigrant females between the ages of fourteen and twenty-five, interpreters, and IRC staff logged into Zoom promptly at 10 AM to begin. Introductions and activities were underway. Firstly, we focused on community-building. We created a space for the participants to discuss the desires and fears they had. This allowed the participants to realize they were not alone in how they felt.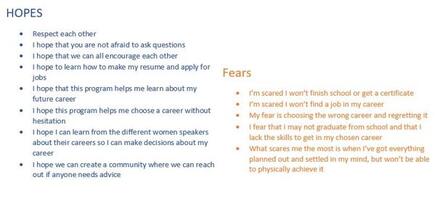 We had mentors stop by to speak about their career trajectories in an effort to expose the participants to different career paths and see women succeeding in those career paths.  This year, we had a multitude of mentors who worked in various fields including law, music, architecture, engineering, business, finance, social impact, recruitment, education, and program management. Mentors are one of the most impactful components of the Vision program and this year we saw this impact exemplified during various moments of the workshops.
For example, this year we had a Swahili-speaking Congolese participant, Justine. IRC San Jose does not frequently serve Congolese populations as it is not common for members of this community to reside in our area. For Justine, this has meant she does not have much of a community to rely on and is unable to see much representation in her day to day life. Well, we had a surprise ready for her. One of our mentors was a Swahili-speaking Congolese woman who worked in architecture. Justine showed extreme engagement while this mentor was speaking and when we asked her, "What was the most important thing you learned or took away from Vision?" Justine responded, "According to the mentors that were there and their experience, I learned that I can achieve my goals." We did it! We inspired and empowered one of our most vulnerable, yet hard-working and resilient participants.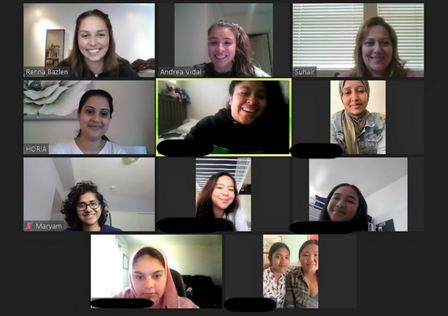 Riding on a high of completing this challenging endeavor, we asked for more feedback to see if the participants and mentors also deemed the workshop a success. Participant Vanessa replied, "Thank you for everything… for the donations, for the time dedicated to the project, for the advice and counsel. You did it very well and I loved the workshop… everything I heard was a great help. The reflection from your team made the sessions all the more enjoyable. Congratulations." Vanessa has expressed wanting to be a preschool teacher since her arrival. Lucky for her one of our mentors was a retired teacher. We connected Vanessa and Mentor Janine so they could converse about the profession 1:1. Vanessa returned from this meeting ecstatic and asked to enroll in our employment program to pursue her career goals. She had previously been exempted from participating in our employment program due to having a young daughter, but was now more determined than ever to begin working towards her goals.
Did the mentors feel the same way? We asked. Mentor Kathy replied, "Thank you for inviting me to speak with the girls today. I was so touched by their stories and hope to continue supporting your organization. You and your team are doing an impactful job at IRC. Please do not hesitate to reach out to me if there is anything I can do to help the girls and your organization." Kathy comes from a refugee background which has inspired her to be a mentor for our Vision's participants. Having people like Kathy, who have had to triumph over scary and difficult obstacles, participate in this program is key to the impact Vision can provide. When asked about how hearing from Kathy made her feel, Vanessa responded, "I had a renewed sense of hope hearing from someone like her."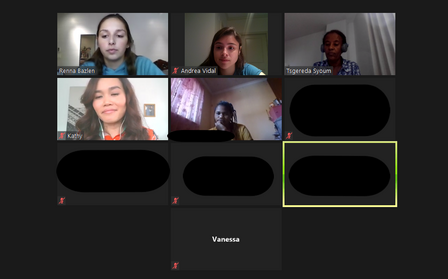 We completed session one and replicated the workshop for session two, which hosted another ten immigrant-female participants. We did it! COVID-19 did not, and will not, stop us from providing a transformative experience for some of our most vulnerable beneficiaries.