To commemorate Constitution and Citizenship Day on September 17th, the IRC spoke with Noela Mulongo about what it means to be a United States citizen.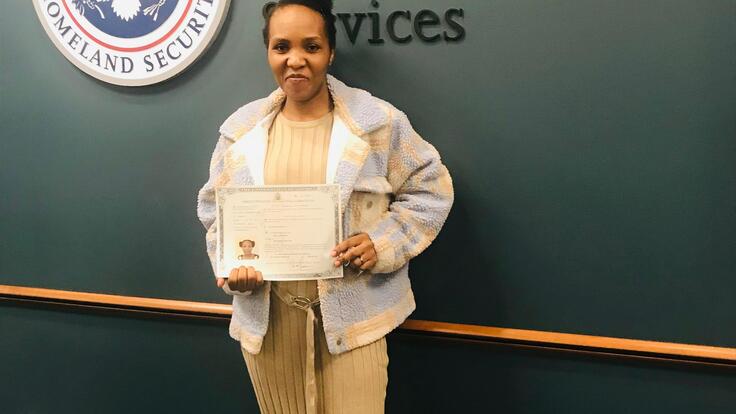 Noela came to the U.S. as a refugee from the Democratic Republic of Congo in 2016 and was resettled by the IRC in Maryland. To Noela, being a U.S. citizen means living in a country where an individual's rights and liberties are respected at all costs: "Since I came to the U.S. as a refugee, I'm very calm and stable and feel the freedom to live life on my own terms."
Refugees are able to apply for a green card after one year of living in the U.S. and for citizenship five years later. The Immigration Legal Services team at the IRC assists clients undergoing the naturalization process to gather appropriate documentation for the application, inform them of necessary biometrics appointments as well as offer study materials and a preparation session for the naturalization test. The naturalization test consists of two components: one that determines an applicant's English proficiency in reading, writing and speaking; and a civics portion that assess their knowledge of U.S. history and government. 
Noela says that the most challenging part of the process was her lack of confidence in her English language skills. When she first came to the U.S., her English was limited. She immersed herself in English language learning, be it through formal study or watching movies in English. 
After living in the U.S. for five years as a green card-holder, the Immigration Legal Services team at the IRC in Silver Spring helped Noela prepare and file her citizenship application, study for the citizenship test and improve her English skills: "I received motivation from the IRC to be a stronger woman by knowing what resources were available to me. The IRC supported me by offering me the services I needed to become a citizen."  
Noela became a U.S. citizen on April 1, 2022. Noela spoke of what this meant to her, stating that "I appreciate my freedom and the way that the U.S. treats its people. People are free to move, speak and work with full liberty and autonomy. I feel comfortable in the U.S." 
Noela lives with her fiancé and three children and works in Silver Spring taking care of the elderly.