Emilia, 21, and her four-year-old daughter Lauda fled widespread violence in Honduras to seek asylum in the United States. They are among the thousands of families the International Rescue Committee has helped at the U.S.-Mexico border. Emilia shares their story.
I left on a Monday about 6 o'clock in the morning with my daughter, one suitcase, and a little bit of money.
It's impossible to live in Honduras. The crime is horrible. Kids can't play freely because sometimes there are gunfights that last two hours. There are robberies any time and anywhere. If you have something to give the thieves, then you're all right—but if you don't have anything they will just kill you.
Three men attacked my neighbor and got angry when he had no money on him. They threw him to the ground, and started kicking him and throwing rocks at his head. He started bleeding and his eyes turned black and blue. I saw everything.
All you can do in Honduras is shut your mouth because nobody is safe there.
It was horrible that I couldn't do anything about it. Fortunately he lived—but the truth is if you try to stop something like this, they'll just do the same thing to you. All you can do in Honduras is shut your mouth because nobody is safe there.
A desperate journey
The day we left, my dad drove us to the bus station. That was the last time I talked to him. From the time we left the house, he kept entrusting me into God's hands.
Fifteen days passed before we arrived in the United States. The road north is not too easy—but not too dangerous, either. But once you get to the border of Guatemala and Mexico, you start feeling nervous.
I'd heard many stories about how many people are kidnapped in Mexico, and how dangerous it is. So you travel through Mexico with that fear as well, but trusting in God the entire time.
There are parts of the highway that are very desolate: It's like desert, and it's scary. We traveled day and night, and slept on the bus. We only stopped to use the bathroom, and then we would take off right away.
Making it over "the line"
There were about 24 of us altogether in our group. When we finally crossed "the line," as we called it, we walked about an hour and a half looking for the U.S. border authorities, so they would take us in.
I was feeling nervous but also happy. I thought, "Well, if they grab us, at least we would be in the United States." But I was worried that they would send us back to Honduras again.
It was mid-day and the sun was extremely hot. We found we had run out of water—we didn't have any water to give the kids. We felt very desperate.
We found a huge shade tree, so we decided to wait there and rest for a little while, since we had walked a great deal carrying suitcases loaded with stuff.
We also saw a bridge with water running beneath it, but were surprised to find that it was salty. We were thinking, "If we have to keep walking, there's no way we can drink this water."
I was feeling nervous but also happy. I thought, 'Well, if they grab us, at least we would be in the United States.'
But then the border patrol showed up.
They spoke to us, and we approached them. We sat down and they told us to take the shoelaces out of our shoes, the hair ties out of our hair—and the same thing for the children. They said if we had any cash or coins, we should put it all in the suitcases.
They asked us for identification cards and the birth certificates of the children. And then they began to take down all of our personal information.
While they were writing down our information, a bus showed up to take some of us. Then it came back to get the rest of us.
Inside the "ice box"
When we arrived at the immigration office, they checked us all over again.They gave us some food. They gave us water. They gave the children cookies and juice. And after we'd been waiting a little while they called us through Immigration and took our fingerprints, both parents and children.
After that they put us in a small, very cold room—it was extremely cold. We slept on the floor with the children. They gave us this aluminum paper thing as a blanket. It does work—it warms you up—but it is very uncomfortable to sleep on the floor.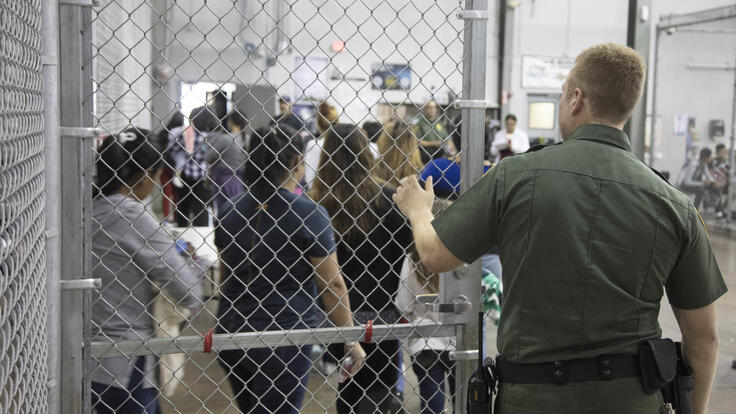 More and more people continued to come in, and because the cell was pretty small we couldn't all sleep at the same time. Some people would be sleeping while the rest were sitting up.
There was just one window where we could see the immigration officials working, but we couldn't tell if it was day or night. We didn't know what time it was until they gave us breakfast and we got to go outside for a little while. Then they would call a few of us to do some paperwork while the rest of us waited. It was difficult but I managed to stay calm.
They put us in a small, very cold room—it was extremely cold. We slept on the floor with the children.
We were there for about three days. Thank God my daughter was fine. There were other kids there, so they would play together.
Sometimes when the officials came in to call one of the other people in the room, they would let me know they'd be calling me soon. Sometimes I would say, "I just want to sleep in my own bed."
Finally, they released us.
I felt joy and happiness after being locked inside for days. We were taken to a shelter in Phoenix, Arizona run by the International Rescue Committee.
A real welcome
Everyone here has treated us very kindly. When we got here they said "welcome" and hugged us. They were even applauding us.
They asked us if we needed a doctor. They gave us food (chicken and salad—it was very delicious) and something to drink. They also gave the kids cookies and fruit and juice. And they gave us soap and body care items, feminine supplies, diapers for the babies, clothes and toys for the kids.

We could feel the love and the concern. It was very moving—we even cried.
Now I'm going to meet my future brother-in-law—my sister's fiancé—who lives in Dallas, Texas. The volunteers here are helping me buy our tickets for a bus or a plane trip there, and letting me know what I need to do next for our asylum claim in the U.S.
We could feel the love and the concern. It was very moving.
I'm not planning to live here forever. I'm just hoping that they'll let us stay here for a little while. And, hopefully, my daughter will get to go to school here. I want her to be something in life. I want her to have a good life.
I left my whole family behind in Honduras, and I want to go back one day. Honduras is beautiful—it's lovely—but life is so difficult there. It's very insecure, and there's no work. It's very painful.
I just want to build a house and start a business in my country—and be able to survive.
Learn more
In the U.S., the IRC is helping meet asylum seekers' basic needs, facilitate family reunifications, connect people to critical legal services and help them access psychosocial support. In El Salvador, the IRC provides emergency assistance to help those who are most at risk to find shelter and safety, as well as cash assistance to help people rebuild their lives. We also launched CuéntaNos, an interactive service that provides trustworthy, up-to-date information for people affected by crisis.