Pakistan has experienced extreme rainfalls since the monsoon season began in mid-June, with about three times more rain than the national 30-year average. This has led to severe flooding impacting more than 33 million people. Family homes are being destroyed and crops ruined. Over 1,400 people have died. 
The International Rescue Committee (IRC) has been active in Pakistan since 1980 and recently launched an emergency response to provide immediate assistance to those affected. Read more about what is happening on the ground and what needs to be done to ease this growing humanitarian crisis.
Editor's note: International humanitarian Angelina Jolie is visiting Pakistan with the IRC to see and hear from people affected by the devastating floods. 
"With more rains expected in the coming months, we hope Angelina Jolie's visit will help the world wake up and take action," says IRC Pakistan country director Shabnam Baloch.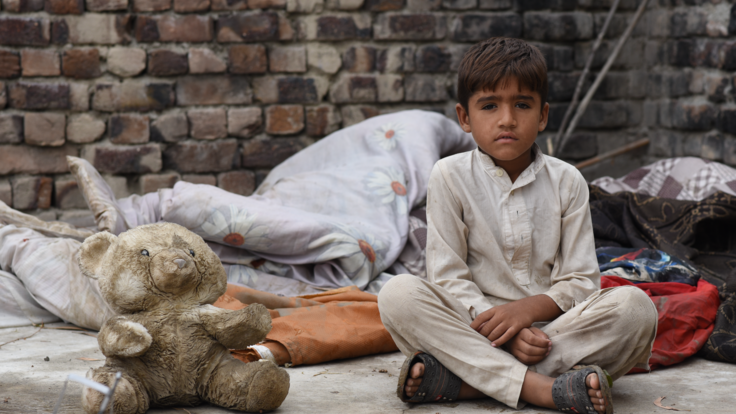 How destructive are these floods?
According to Pakistan's top climate minister, Sherry Rehman, the flooding has submerged a third of the country underwater. The damages are likely to increase from $10 billion USD to $12.5 billion. 
Over 1,400 people have been killed by flooding; nearly 460 of them were children. The floods have injured more than 12,500 others.
Additionally, 3.6 million acres of crops have been destroyed and 800,000 livestock have died. This will increase food insecurity across the country and will have a severe impact on the economy. 
The damage destruction of over 1.5 million homes in Pakistan will displace families and force them into tough conditions. Those displaced are at a higher risk of contracting disease and may lack access to critical health care and proper sanitation supplies.  In one province alone, 90,000 cases of diarrhea were reported in a single day, in addition to other diseases such as skin and eye infections. Health concerns in Pakistan are exacerbated by the destruction of over 800 health facilities due to flooding, as well as by the scarcity of clean water and hygienic supplies.
In a rapid needs assessment carried out by the IRC and the Medical Emergency and Resilience Foundation, 70% of respondents reported not having access to basic hygiene supplies, 55% reported not having access to sufficient water and 66% said that they did not have access to toilet facilities.
Flooding has also brought widespread devastation to neighboring Afghanistan, particularly in the central and eastern provinces of the country. Many of the areas impacted by this month's flooding are still recovering from a devastating earthquake in June that killed over 1,000 people.
Impact on women and girls 
Women and girls are frequently among the most vulnerable during humanitarian crises. The crisis in Pakistan is no different—women and girls are at increased risk of violence and abuse as displaced families are forced to sleep in camps or makeshift shelters.
In the IRC's needs assessment, 97% of respondents reported that pregnant and lactating women were highly vulnerable. Currently, there are over half a million pregnant women in flood-affected regions, including 73,000 who are expected to give birth within the next month. 
Survey respondents also overwhelmingly agreed (88%) that women and teenage girls were highly vulnerable. All survey respondents noted that women and girls currently have no access to menstrual hygiene products.
The IRC is also concerned about the safety of the over 1 million registered Afghan refugees in Pakistan, around a third of whom reside in the Balochistan and Sindh provinces. These areas have experienced a 784% and 500% increase in heavy rains respectively.
Is flooding normal in Pakistan?
While Pakistan has flooded in the past, there is a big difference in the magnitude of today's floods. This monsoon season has far outpaced historic levels of rainfalls and more heavy rains are expected in the coming weeks.
Climate change makes extreme weather more likely in Pakistan, just as it does around the world. The country is one of many bearing the brunt of global warming despite having contributed very little to global carbon emissions. 
"Pakistan has been facing increasingly devastating climate-induced drought and flooding," says IRC Pakistan country director Shabnam Baloch. "Despite producing less than 1% of the world's carbon footprint, the country is suffering the consequences of the world's inaction."
Pakistan consistently ranks in the top 10 countries most vulnerable to climate change, and these floods are just one example of the country's climate vulnerability. The effects of climate change are having harrowing impacts on livelihoods and people's health, both mental and physical.
World leaders must come together to provide humanitarian and technical support to Pakistan and to help alleviate the disproportionate burden the country and its people face today.
How is the IRC responding?
The IRC has launched an emergency response to provide immediate assistance to those impacted by the floods in Pakistan and neighboring Afghanistan. We are dispatching food supplies,dignity and hygiene kits, basic household items, and setting up medical response centers to assist people impacted by the floods.
IRC staff have overcome challenges in delivering aid, such as being stuck on flooded roads, to reach people in Pakistan and throughout some of the country's most impacted regions.
"Now, more than 33 million people, including many Afghan refugees, need our urgent help." explains Shabnam Baloch, "The IRC has reached almost 46,500 people with critical food, supplies and medical support. We are urgently requesting donors to step up their support and help us save lives."
What can you do to help?
Donate now to help support the IRC's emergency response in Pakistan and Afghanistan, and our work in crisis zones worldwide. 
*Name changed for privacy