"It is a huge risk—a matter of life and death," says Jidda*, who fled his home in Nigeria and was rescued when the boat he boarded in Libya floundered in the Mediterranean Sea. "But when you get into a situation where you are left with no choice, what do you do?"
Tightening border controls have not deterred refugees and migrants like Jidda who are seeking safety and a better life in Europe, but only pushed them into the hands of smugglers, traffickers, and further harm.
Many have no option but to take the notorious "Central Mediterranean Route," running through the deserts of Niger, to conflict-ridden Libya and across the Mediterranean to Italy.
It is dangerous at every step. 
Since the COVID-19 pandemic took hold, the situation has become even more perilous. The International Rescue Committee (IRC) has found that 83% of conflict-affected countries where we work have put additional border restrictions in place in an attemp to slow the spread of the virus. As a result, people who have fled war, persecution and crisis find themselves trapped at borders and prevented from seeking asylum.
What drives people to take these journeys, despite the dangers and the pain of leaving loved ones behind?
The IRC recently partnered with illustrator Paul Blow to tell the stories of Jidda and others at various points along the Central Mediterranean Route. You can explore the illustrations below and read the full stories here.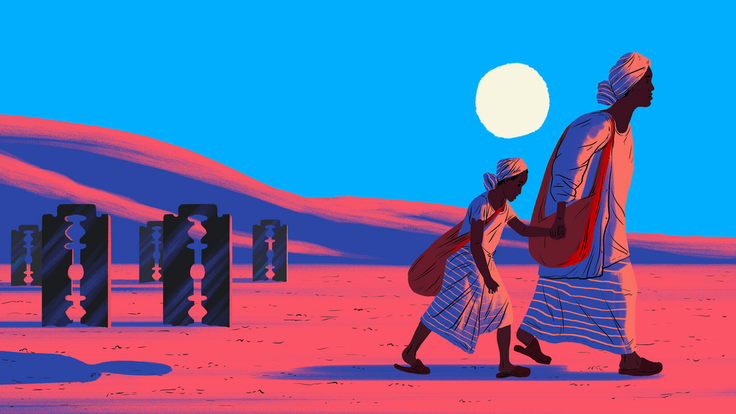 A mother's brave escape 
"I escaped with my daughter because her father wanted to perform genital mutilation on her. Ever since I left Sudan he's been threatening to kill me and my daughter."
- Alia was training to be a veterinarian when she decided to flee Sudan with her 11-year-old daughter. She now lives in Libya but is trying to make it to Italy.
Keeping home close  
"What I'm missing the most is my children. When I miss them, I look at their picture."
Obioma has had to travel alone and says that the most important thing she has brought on her journey is a photo of her children.  
The dangers women face 
"I was raped, and I saw many rapes. But I had a goal in mind, I wanted to reach it. I decided to move on and not to look backward."
27-year-old Marie is from Cameroon and has made it to Niger so far. She describes the dangers women face on the journey.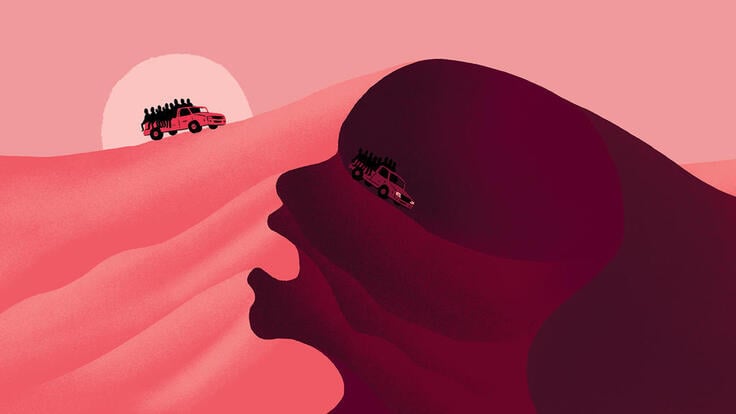 The suffocating desert 
"Some fell and died, and the driver just kept moving. The sun is crushing. The breeze is as hot as fire."
Jidda is a Nigerian man who made it to Italy via the Central Mediterranean Route.
Detention in Libya
"I heard people were kidnapped and they would beat them and put them on the phone to call their parents, to start sending money."
Jidda describes the unofficial detention he experienced in Libya.
Working for nothing 
"This guy spends the whole day working non-stop. If only they gave him the pay that he deserved, but no, he is being mistreated, he is a human being at the end of the day."
Alia is working as a cleaner in Libya and spoke to the IRC about the ways migrants there were exploited.
The perilous Mediterranean 
"For four days we just sat there in our boat and no one gave us water or anything. People who were on the boat with me died from thirst."
Asim from Sudan describes attempting to cross the Mediterranean.
Uncertainty in Italy
"This [COVID-19] lockdown is small-fry compared to the life changing experiences we've had on the route. I'm lucky to be alive."
Victor is a Nigerian man who made it to Italy, where he has been out of work due to the pandemic. 
*All names have been changed for safety. 
Our response 
The IRC, the Danish Refugee Council (DRC), the Mixed Migration Center (MMC) and the Start Network have formed the Mediterranean Mixed Migration Consortium to help people on the move along the route. For example: 
In Libya, our work ranges from helping people to recover from trauma with a dedicated team of psychologists, to providing shelters for migrants without homes.
In Niger, our social workers provide legal aid and enable people to call home for free. We're also providing cash to vulnerable people, particularly women, which enables them to buy food and other essentials with dignity and choice.
In Italy, the IRC operates Refugee.Info, an online platform that answers questions from refugees and migrants who have arrived in the country. The service helps people navigate their new surroundings and understand the asylum process.
In the Democratic Republic of Congo, we recently launched mobile units to reach vulnerable people living in the street who have lost access to food, health assistance and shelter during the COVID-19 pandemic.
The Mediterranean Mixed Migration Consortium is funded by the United Kingdom's Department for International Development (DFID) to assist refugees and migrants across West and North Africa.