As a transgender woman in Honduras, Lincy Sopall faced abuse, violence and persecution. She first sought asylum in Mexico after a treacherous journey traveling by bus, foot and on the freight train nicknamed 'La Bestia.' But after an assault on the street, Lincy realized her life was still in danger.
Lincy, 33, crossed the U.S.-Mexico border in January 2018 and spent several months in different detention centers before she was granted asylum in May. With the help of the International Rescue Committee, Lincy was able to rebuild her life in Phoenix, Arizona where she has started a fashion business, a dream of hers since she was a little girl. Below, Lincy shares her powerful story about safety, humanity and finding the strength to overcome trauma.
Your own country closes its doors to you
I have only a few happy memories from Honduras. One is of my birthday when I received hugs from my parents. Another memory I have is playing dolls with my sisters, but I could hardly ever do that. I had to play in secret. My parents prohibited me from playing with dolls. Once I got very angry and I grabbed the dolls and threw them out the window. If I couldn't play with them, neither would my sisters.
In Honduras, transgender people are persecuted and discriminated against. It is not a place where you feel you can live safely. Nobody considers you a human being. Nobody thinks you have feelings. Your own country closes its doors to you. And on top of that, there are dangerous gangs.
I started a small business in Honduras, designing clothes and teaching classes on fabric-cutting and sewing during the weekends—but I had to make my living working Monday to Friday in a maquila, a men's shirt factory.
Being transgender, I was constantly harassed. I had only two choices: leave Honduras and live or stay and die.
I didn't have much money, but I was forced to pay a "war tax" to gangs. If you don't pay it, they might kill you. Being transgender, I was constantly harassed. I had only two choices: leave Honduras and live or stay and die. 
It took me a year to reach the U.S. I didn't have the resources to pay a smuggler, so that's why I took the freight train. I went alone, but I made friends along the way. I left with just $200, some food, clothes and a belt. I brought the belt because I'd heard that people had to tie themselves onto the train so they wouldn't fall off.
The train was a terrifying experience. I would lie on top with my arms and legs spread out like a spider because I was afraid I'd fall off. The train would stop, and we'd have to get off and start walking. Sometimes the next train wouldn't come for three or four days. You'd have to walk day and night. Along the journey, I found temporary jobs cleaning houses and working at a shop. One night, a group of us were trying to catch a train. It was moving very fast. I fell when I tried to get on it the first time. Out of about 20 people, only three of us were able to get on. 
Keeping out the "bad thoughts"
I tried to apply for asylum in Mexico, but I didn't feel safe—so that's why I crossed into the U.S. I was sent to a place they call the 'icebox.' It's a small place where you get a little mat with a sheet to sleep on. I was only there for two nights.
I was sent to a second detention center in El Paso, Texas where there was no place for transgender women. I had to pick if I wanted to stay with women or men. I said neither because I was terrified. I preferred to be alone. I was moved to a third detention center in Cibola, New Mexico where I stayed for three months and 11 days.
Being detained and having your freedom taken away from you is difficult to process. You have strange thoughts and energy. It made me afraid because I have never had bad thoughts. You start thinking about all kinds of things, how to hurt yourself and how to hurt other people. It's very difficult to fight against those dark thoughts.
It took months for me to overcome this trauma. I had heard that in this country it is prohibited to enter without the right papers, but when you're trying to save your life, you have no other choice.
The IRC is family
I was granted asylum on May 1, 2018 and left the next morning to meet a friend and staff from a trans support organization in Phoenix. The following day the International Rescue Committee reached out to offer their help. When I arrived at their office, I told them I didn't have a place to live, and I only have two outfits. They walked me to a room filled with clothes for me to choose. It was something quite beautiful. I was introduced to my caseworker who helped me find an apartment and a job. That's when I started to save to apply for a loan from the IRC to create my fashion business.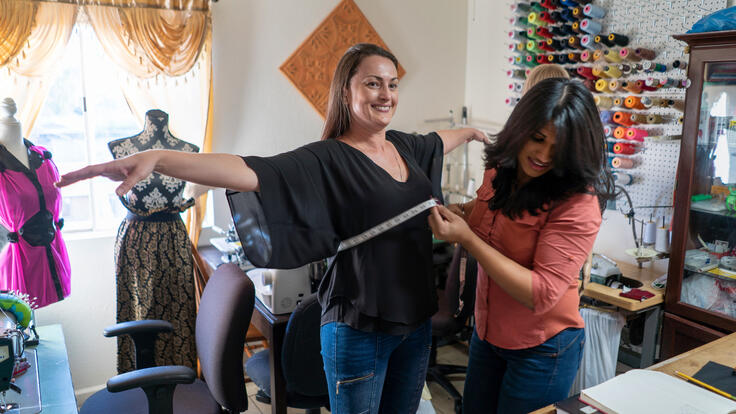 I started designing clothes at the age of nine. I would make outfits for the dolls with my sisters. My inspiration comes from diversity—and my life experiences. I give a piece of myself to each design. I focus on women's clothing but I have created items for men and children: My door is open to everyone.
With the loan, I was able to turn my apartment into a workshop and purchase fabrics, sewing machines, tables and other supplies. It's unbelievable how in just a period of one year and four months, my business is now a reality. The IRC opened the door for me. They made me feel like I was part of a family. I came alone, but I didn't feel alone anymore.
One of the first outfits I sold was to Kim, who is now my closest friend. I met her at an IRC event called the World Bazaar where I was able to showcase my designs. She saw one of my dresses, fell in love with it and bought it immediately. It was very emotional for me.
Number one priority: safety
I tell my story because I want to help others. My story has a lot of suffering, but sharing it has helped me heal so it may help others who are going through something similar. I also want people to know that those who are fleeing from their countries are looking for one thing, and one thing only: safety.
We are all human beings who love and feel and want to be valued for who we are. You don't have to speak the same language to understand and respect each other. By opening your heart, you will allow another heart to open.
Editor's note: The IRC caught up with Lincy a few months into the coronavirus pandemic. A lot had changed: for one, the Trump Administration had declared asylum seeking "nonessential travel," leaving vulnerable people like Lincy in harm's way.
The pandemic also made it difficult for Lincy to reach customers. Luckily, she was able to improvise and pivot to making the masks her friends and neighbors needed to stay safe. 
"When people couldn't find masks, I started to make a product that could help protect everyone," she says. "Because people have to go out to do daily errands, protection is necessary."
Despite the challenges, Lincy still has hope for the future.
"I know what we're going through right now hasn't been like any other illnesses," she says. "The most important thing is knowing that...we can keep on fighting. When you feel like you're at the edge, you can share your own experiences with others. Then people can say, 'if she can, I can.'"
You can read more about Lincy and other refugees keeping their communities safe during the coronavirus pandemic here.