London, Britain, September 16, 2016 — With the Syrian crisis now in its sixth year, three in four people (76%) expressed a great deal, a fair amount or a small amount of sympathy for Syrian refugees coming to their country. This is according to a poll of 12 countries in Europe, commissioned by the International Rescue Committee (IRC), released today.
The findings also reveal that, on average, only three in 10 (30%) respondents of working age identified national security as one of their top three concerns about refugees coming to their country. Economic pressures, such as the cost to the government of hosting refugees (30%) and additional pressure on the national welfare system (30%) were cited as top concerns.
These findings show that Europeans have not lost their hearts. Refugees are fleeing danger in record numbers and public sympathy for them in Europe is striking.

At a time when toxic rhetoric has found its way into the political mainstream, there is a clear call here for governments to combine compassion with competence in responding to the refugee crisis. Security, economic well-being and fair treatment of refugees can and should go together.
- President and CEO of the IRC, David Miliband
Ireland ranked* most sympathetic of all countries surveyed; with an average of 87% of respondents having sympathy, closely followed by Spain (86%) and Germany (84%), Portugal (84%).
The UN estimates that 1.19 million of the most vulnerable refugees around the world are in need of resettlement to industrialised third countries. Currently low- and middle-income countries host 86% of the world's refugees, while Europe hosts just 8%.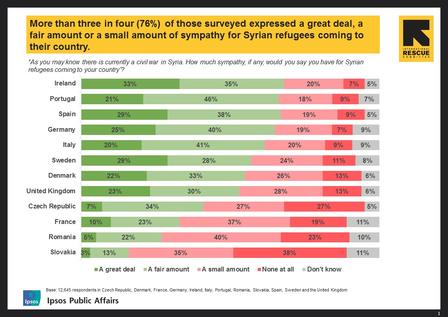 The IRC is calling for European leaders to take in 50% of all Syrian refugees and 25% of all refugees globally, which is 540,000 over five years, or 108,000 per year. This number has been calculated by taking into account the population and GDP of each country. 
In the IRC's sixty years of experience resettling refugees in the United States, the organisation has found that 85% of new arrivals managed by them are in employment within 180 days, actively contributing to the local economy.
The survey, conducted by leading market research company Ipsos MORI, polled approximately 12,000 people across 12 countries in Europe.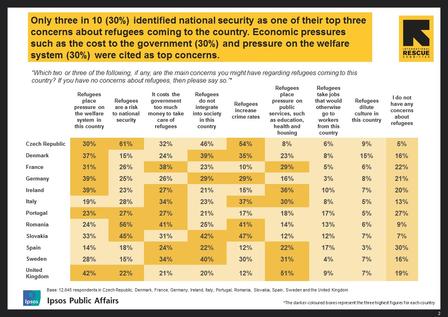 *The ranking is based on the percentage of respondents in each country who felt a great deal, a fair amount or a small amount of sympathy for Syrian refugees coming to their country.
FURTHER INFORMATION 
For IRC illustrative charts of the findings, click here.
For tables of the raw data for all 12 countries surveyed, click here.
For more information on the IRC's calls for resettlement to Europe, and a tracker of how well European governments are delivering against IRC's advocacy calls, click here.
TECHNICAL NOTE
The survey was carried out online by Ipsos MORI from 5 August 2016 - 22 August 2016 in the following 12 countries: Czech Republic, Denmark, France, Germany, Ireland, Italy, Portugal, Romania, Slovakia, Spain, Sweden, and the United Kingdom. The age range of those surveyed was 18-55 in the Czech Republic, Slovakia and Romania, 18-65 in Denmark, Ireland, and Portugal, 16-75 in France and the United Kingdom, 18-70 in Germany, 16-70 in Italy, and 16-65 in Spain and Sweden. The total sample size is 12,646 respondents across all 12 countries (roughly 1,050 respondents per country). Data are weighted to match the population profile for each county. This includes age, gender, region and working status.
About the IRC
The International Rescue Committee responds to the world's worst humanitarian crises, helping to restore health, safety, education, economic wellbeing, and power to people devastated by conflict and disaster. Founded in 1933 at the call of Albert Einstein, the IRC is at work in over 40 countries and 29 U.S. cities helping people to survive, reclaim control of their future and strengthen their communities. Learn more at www.rescue.org and follow the IRC on Twitter & Facebook.