The United States has always been a nation of immigrants, but an executive order from the new administration has pulled back the welcome mat, putting the U.S. refugee resettlement program on hold, and shutting out refugees fleeing the conflict in Syria indefinitely.
Now more than ever, we must lift up America's proud tradition of inviting people who have fled war and persecution to rebuild their lives in safety and, ultimately, contribute to the country's prosperity.
One powerful way to counter the current rhetoric is with a wave of positive affirmation for those who have stood up for some of the world's most vulnerable people. We've chosen 10 courageous "Champions for Refugees" who have shown their support for the record 65 million-plus people currently displaced around the world, and inspired others to do the same. Send them a heartfelt "thank you" and learn how you can join them in supporting our shared American values of freedom and opportunity.
1. Lawyers and courts who rule
One week after President Trump's executive order suspending refugee resettlement was issued, Washington State Federal Judge James Robart temporarily blocked the ban from being enforced nationwide - a ruling that has since been unanimously upheld by three federal judges from the Ninth Circuit (Judges Michelle Friedland, William Canby Jr. and Richard Clifton). With appeals, new cases and even national constitutional challenges to the order pending, courageous lawyers and judges will continue to be on the front lines defending the rights of immigrants and new citizens and preserving the country's collective commitment to due process and fairness.
Thank Judge James Robart and the 9th Circuit Justices
I join @theIRC in thanking Judge James Robart and 9th Circuit Justices for being champions for refugees
2. Lemon-Aid maker
Actor Kal Penn (Designated Survivor) demonstrated how to turn bigotry on its head, while producing hundreds of thousands of dollars to support Syrian refugees. On Saturday afternoon following the announcement of the White House order, Penn responded to a racist troll online with a tweet that said, "To the dude who said I don't belong in America, I started a fundraising page for Syrian Refugees in your name." By Wednesday morning, Penn's campaign on Crowdrise had raised more than $800,000 for the International Rescue Committee (IRC).
In 1 week, you all raised $851,124 for refugees. 33,944% above the first goal of $2,500. This is who we are when we come together #resist

— Kal Penn (@kalpenn) February 4, 2017
Thank Kal Penn
Thank you @kalpenn for being a champion for refugees at this critical time. @theIRC and I honor you:
3. Tech Titans
Leaders of Airbnb, Amazon, Basecamp, Box, Facebook, Google, Lyft, TripAdvisor and others are speaking out in support of refugees. Many of America's leading tech companies were founded by immigrants like Intel co-founder Andrew Grove (a former IRC board member) and Google co-founder Sergey Brin. Former Apple CEO Steve Jobs's family was from Syria. For today's refugees, information technology is a vital lifeline. From the beginning of the refugee crisis, the tech industry's best and brightest have worked with the IRC and our partners to develop innovative solutions to help them find their footing or stay in touch with loved ones, from phone-charging posts in refugee camps to websites that offer local information for refugees traveling through Europe.
Thank these tech leaders
Thank you @Airbnb @Basecamp @BoxHQ @Google @TripAdvisor and more for being champions for refugees!
4. Welcoming host
Canadian Prime Minister Justin Trudeau re-affirmed his country's welcome to refugees and support of Muslims amid the chaos and confusion caused by the executive order. Trudeau has gone above and beyond to ensure Syrian refugees felt welcome in his country, personally greeting new arrivals at the Toronto airport. After meeting one of these families—the Garabedians from Syria—again a year later, he was famously moved to tears. With Trudeau's backing Canada has resettled more than 39,000 Syrians over 13 months. "I don't want to lose sight of the fact that Canada's engagement must not stop at resettlement," Trudeau has said. "Now is the time for each of us to consider what more we can contribute." 
Thank Justin Trudeau
Thanks @JustinTrudeau for being a champion for refugees at this critical time. @theIRC and I honor you
5. Determined advocate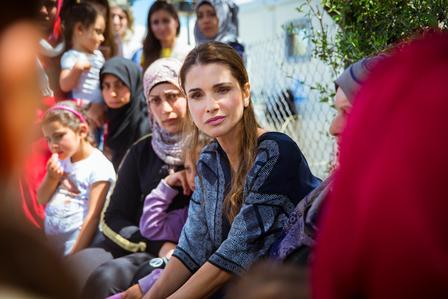 Queen Rania Al Abdullah of Jordan has been a compassionate and frank spokesperson for families uprooted by war (she is also an IRC board member). "[Refugees] need more than 'likes' on Facebook or Instagram pictures of their plight," Queen Rania has said, "They need results." Jordan hosts more than 1.5 million Syrians and many have lived there since the Syrian conflict began in 2011. With local education, healthcare and unemployment support stretched to the limit by the refugee crisis, the Queen has called for innovative, long-term solutions. She has also been a vocal advocate for the most voiceless refugees – vulnerable women and children.
Thank Queen Rania
Thanks @QueenRania for being a champion for refugees at this critical time. @theIRC and I honor you
6. Model statesmen
On the chaotic weekend following the release of the executive order, Washington Governor Jay Inslee (D) and Virginia Governor Terry McAuliffe (D) stood with protesters to advocate for refugees detained by federal border patrol authorities. Also on Sunday, Sen. John McCain (R-Ariz) and Sen. Lindsey Graham (R-SC) issued a joint statement saying … "[Americans] should not turn our backs on those refugees who have been shown through extensive vetting to pose no demonstrable threat to our nation, and who have suffered unspeakable horrors, most of them women and children." These leaders have been joined by representatives at every level of government, and from both sides of the aisle.
Thank these leaders
Thanks @GovInslee @GovernorVA @SenJohnMcCain @LindseyGrahamSC for being champions for refugees
7. Employers of the year
These outstanding employers are giving resettled refugees a simple but critical tool to help them rebuild their lives: a job. Chipotle Mexican Grill has hired more than 150 refugees at its restaurants—many of whom have gone on to become managers. Starwood Hotels & Resorts employs newly resettled refugees in 19 cities, and is starting a hospitality program to train more. And Starbucks has recently announced it would hire 10,000 refugees. Ever since its early years, resettled refugees have also been welcome at Chobani, maker of America's best-selling Greek-style yogurt. Hamdi Ulukaya, a Kurdish immigrant from Turkey, started the billion-dollar company with a small-business loan—he's a testament to the entrepreneurial drive of new Americans.
Thank these outstanding employers
Thank you @ChipotleTweets @StarwoodBuzz @Chobani @Starbucks for being champions for refugees:
8. Game changers
Cast members of HBO's fantasy television series Game of Thrones helped to shine a light on the grim realities of the refugee crisis over the past year, in a joint campaign with the IRC. Last summer, actors Lena Headey (who plays Cersei Lannister), Liam Cunningham (Davos Seaworth) and Maisie Williams (Arya Stark) visited camps where the IRC works in Greece and called on European Union leaders to do much more for the approximately 57,000 refugees stranded in the country, who are now enduring a grueling winter. "These smart, hardworking people want to go home," said Headey. "…. We can do better for them. We must do better for them."
Thank HBO and Game of Thrones
Thank you to @HBO and @GameOfThrones for being champions for refugees with @theIRC!
9. Local heroes
It is local communities that introduce resettled refugees to the meaning of an important new word – welcome! When Kazingufu and his family of five fled violence in the Democratic Republic of Congo to resettle in Baltimore in July, they were warmly met by their IRC volunteer mentor, Suzie. She helped him get a learner's driving permit and even plan a birthday party for his daughter Jackline. Last year volunteers in the IRC's 29 U.S. resettlement offices, along with thousands of others across the country, helped nearly 85,000 newly arrived refugees cope with everything from learning English to navigating a supermarket – gaining new neighbors and lifelong friends along the way.
Thank these volunteers
Thank you to ALL @theIRC volunteers across 29 US cities for being champions for refugees!
10. The youngest humanitarians
The humanitarian spirit comes in all shapes, sizes, nationalities and ages. A group of third graders in Boise, Idaho demonstrated this recently with a class project to create welcome cards for newly resettled refugees coming from Kenya, Somalia and the Democratic Republic of Congo. The students shared their favorite things to see and do in Boise — and encouraged their new neighbors to sample local fare, such as pineapple pizza. One wrote: "I am so happy you are in America! You should join the football team." Said another, "I hope you love it here!" We give these third graders – and the next generation of humanitarians – an A+++ in Civics.
Thank the class
Kudos to these incredible 3rd graders who are champions for refugees. Meet other heroes @theIRC: