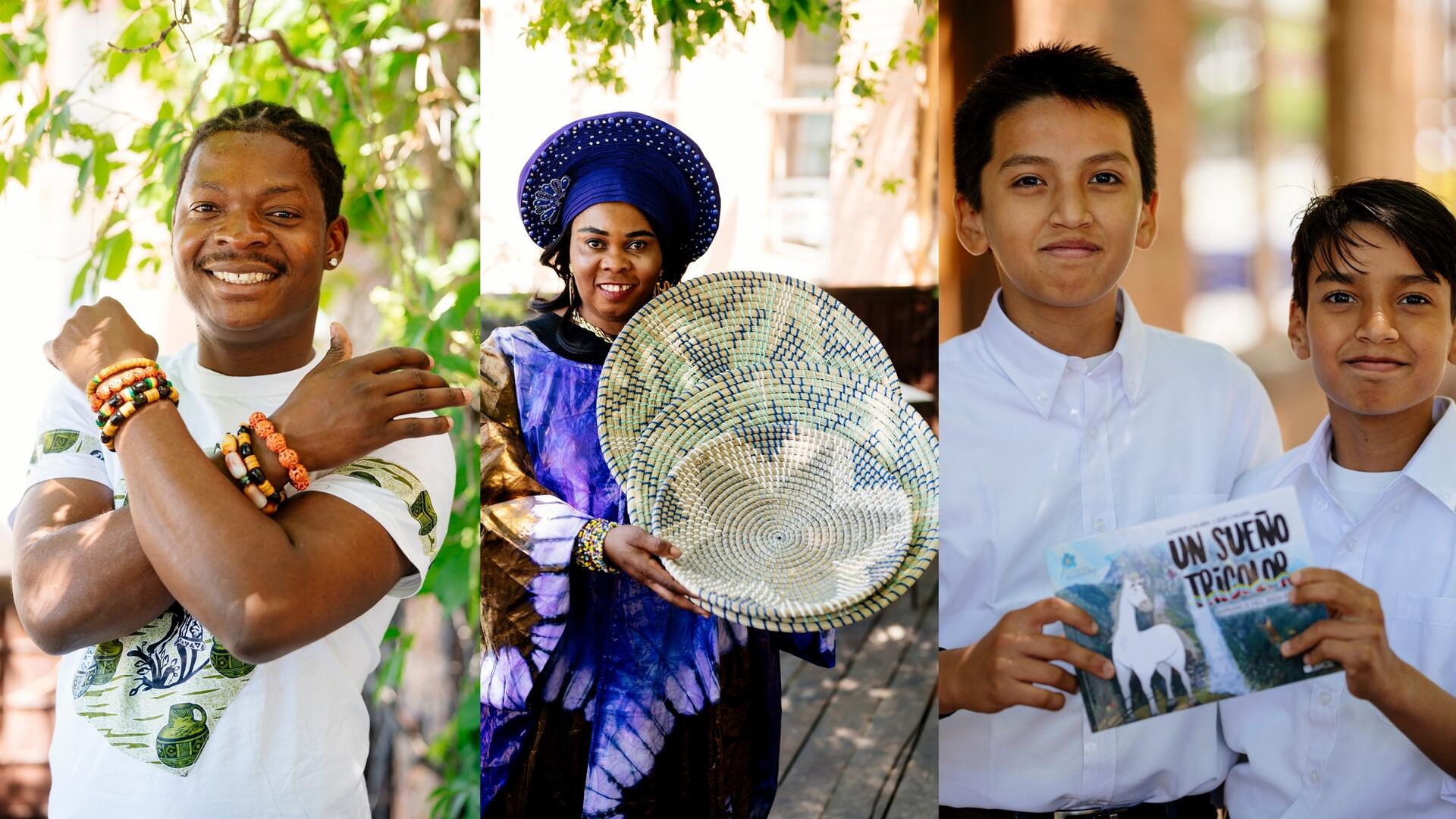 This World Refugee Day, we recognize the resilience and courage needed to reimagine and create a new life. Refugees have the bravery to pick up a brush, a pen, a needle and tell their story in their own words, not only recreating their worlds, but recreating the world we share. To refugees everywhere, thank you--this World Refugee Day, and every day, our lives are touched by the world you are creating.  
We invite you to meet just a few of the artists from refugee backgrounds who share their stories through their art. 
Meet Koffi. 
Koffi runs an online marketplace where he promotes the art of his friends and family from his country of origin, Togo. "I do design a lot of my products, I do design the necktie, bowtie, shirts, aprons and bracelets. But before that, I like to showcase my family members and friends' art and craft from back home in Togo. I'm originally from Togo, and I do get some of the product design by my friends and family members from Togo, Ghana, and Niger to help them showcase their talent outside of Africa."  
"I just like to showcase their talent and for us especially to share our culture, and these represent our culture. [Anywhere] you are, if somebody saw one of our products they will say, "oh, this is from back home, this is from Togo, or this is from somewhere in Africa."  
For him as an artist, the word courage means "to never give up, always keep pushing yourself, going forward. If you have a dream, always go for you dream. Don't give up, just keep pushing yourself to be better."  
Learn more about Koffi and his shop »
Meet Leander and Jesús.
Leander (13) and Jesús (10) are brothers from Venezuela who began writing together for a cause. In order to raise money for a cafeteria in Venezuela, the brothers wrote a story about immigration and fighting for one's home. 
"[Our writing] is meaningful because it's actually meant for the kids in Venezuela," Leander shares. "So all our effort and all we did for this work it's to dedicate to the kids and people in Venezuela."  
"It's to help the kids in Venezuela," Jesús adds. "To make Venezuela better." 
They agree that writing together was fun, even when they were stuck and not sure what to add next. Each brother has favorite memories from writing their book. Jesús particularly enjoys the happy ending where the animal characters chase away the villains of the story. 
For them, courage means "when you're brave enough to write or do something for the people. I think courage means that you're always doing nice stuff and always helping people, because not a lot of people help," Leander says. Jesús adds that for him courage means, "to fight for your country and to make things happy for people." 
Learn more about Leander & Jesús » 
Meet Rosette.
Rosette both makes and sources unique items from the Democratic Republic of the Congo, her country of origin. Some items she can create easily in the United States, like skirts, aprons and masks. For other products, she sources fabric and additional items from Africa.  
"I make the designs because us women, we are like a flower," she shares. "Always us women we like something that looks good and looks different. We change the design all the time. That's why I like to make the designs." 
About courage, Rosette shares: "I don't have fear because I know the people from the [International Rescue Committee (IRC) in Salt Lake City] and the [Department of Workforce Services (DWS)], they are the people that take care of us, and what I'm doing right now is the people from the IRC and the DWS, I can say, is they [help me to succeed] ...that's why I don't have fear to be part of this." 
Learn more about Rosette and her shop » 
Meet Heydar.
Heydar came as an artist from Iran and has been painting for almost 15 years. "It's become a part of me," he shares. "Kind of like my own communication system. It becomes language for me, to share my thoughts, my ideas, and to have a kind of communication with people. Because I'm not good with talking...so I like to share my ideas, my thoughts with the image. I believe image is language so we can use it to share. Also, as a therapy sometimes. At the beginning when I came here as a refugee it was like a therapy session, each time I was painting I was releasing my pressure. Because of elimination of communication, lack of English we couldn't make connections with people a lot so I didn't have a lot of friends, actually no friends, I had a few people around me like my brother and one of my cousins. [Art] became more important to me because it turned into a way of communication for me. This is my passion that I like to do. I went to school for painting so I think right now it's become important for me because it's become my life." 
"I always like to think about human as a figure in my paintings which...sometimes they are in war, in sanctions, or in a different situation...It's mostly about emotion, and different situations that we are in and we make decision, we try to do our best in different situations. So I try to capture this moment in different composition... When I came here, my first series of paintings was about loneliness and the silent scream which is about me as a human, as a refugee who came here and who missed a lot of friends, who missed a lot of family, and tried to figure out a new path for myself. I was a sample of people who were in the same situation with me.", 
"For me, as an artist, courage means doing what I want to do, because it's so hard to keep doing what you want. There is a lot of pressure related to making money. There are situations where you could make more money if you just paint landscapes or paint beautiful things. Right now, I'm doing really hard work to keep myself, to keep painting and doing what I want. Staying on your own path, it means courage for me."