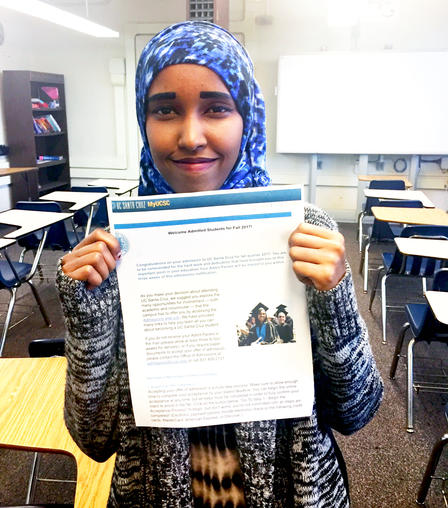 Over the past year we have shared several updates featuring Muhubo, a participant in a number of the IRC in San Diego's youth programs. In December she shared her personal story of coming to the United States as a refugee, and just this March she participated in our International Women's Day celebration, sharing a poem alongside her fellow Girls Academy participants. 
Her involvement with the IRC has helped her in many ways, from help with school work, scholarship applications and essays at after school tutoring to learning to create a resume, find a job, prepare for an interview and improve her communications skills through the Connect2Work program.  In Girls Academy and Peacemakers she formed relationships and was exposed to new experiences that helped her to grow as a person. She says she "used to be scared to stand in front of people, not anymore. It helped me get over my shyness and also to realize that there are many other people out there with stories just like mine and it is comforting to know that I'm not alone."  She also got to address her fear of the water by attending swimming lessons for the first time, and fulfilled her dream of seeing snow.
In her time at the IRC Muhubo has taught us as well, about reslience and optimism and hard work. And in addition to her demanding school schedule, she has taken the time to attend numerous events throughout San Diego to share her story in hope of educating others on the plight of refugees worldwide.
Muhubo was accepted to UC Santa Cruz and will be attending this fall to begin the next step toward her dream of becoming a doctor. College will undoubtedly present new and different obstacles, but we have no doubt Muhubo will continue to overcome whatever challenges she faces.
Learn how you can help students like Muhubo succeed in their first year in college >