Sakera Akter sat nervously as a paramedic wearing a surgical mask aimed an infrared thermometer at her forehead, scanning for a fever. She had just heard about COVID-19 and she was scared.
After a few days of stomach trouble and feeling as if she were coming down with flu, the 22-year-old set out for the International Rescue Committee's primary health care center in her hometown of Cox's Bazar, Bangladesh with her two young sons in tow.
Open 24 hours a day, 7 days a week, the center is part of a network of vital health care the IRC is providing to refugees and their Bangladeshi neighbors in Cox's Bazar, which now hosts more than 1 million displaced Rohingya from neighboring Myanmar in the world's largest refugee camp.
After Sakera was released from the health center's triage area, IRC doctor Sayed Muhaiminur Rahman examined her and assured her that her symptoms were not a match for COVID-19. He also checked her two boys—they were doing fine.
Relieved, Sakera went home with the medication Dr. Muhaiminur had prescribed for her stomach ailment. But the threat of COVID-19 is never far from her mind.
"We are maintaining hygiene as we've been told and trying to stay at home as much as possible," she says. "But still we are afraid."
Although there are no confirmed cases of COVID-19 in Sakera's community, the pandemic has already impacted her family—Sakera's husband, a bus driver, is out of work.
"Because of this disease the government has stopped all public transportation," Sakera explains. "So we don't have any income now."
But at least, she says, she now has peace of mind knowing that her family can go to the IRC health center if they have symptoms and be referred for specialized care if they need it.
All of the IRC's services are free. "We were not sure where we could get treatment, but now I am assured that the IRC will make the diagnosis," Sakera says.
Dr. Muhaiminur and the IRC team at the health center have been busy making sure that when COVID-19 does hit Cox's Bazar they will be ready.
"Every day in our health facility we arrange a session with all health workers and community health volunteers," he says. "We share the latest information about the outbreak, and quick refresher training on personal protective equipment and infection prevention and control."
Dr. Muhaiminur is concerned that the refugees in Cox's Bazar are at especially high risk during the coronavirus pandemic, largely because of their living situation.
"They live in very congested camp conditions, also their hygiene and sanitation facilities are not adequate," he says. "It is really difficult for them to practice social distancing."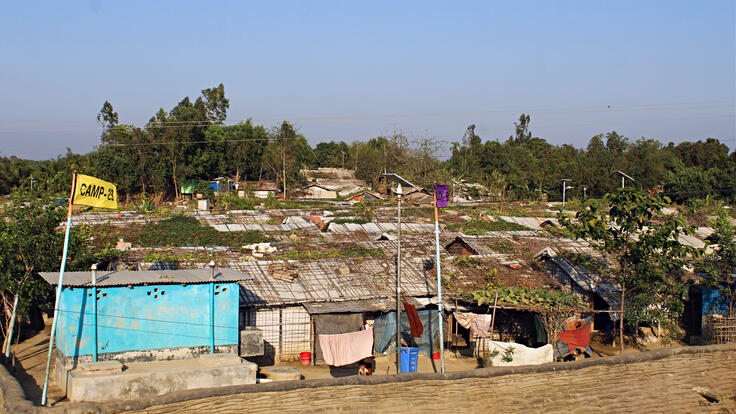 Ambia, 60, a Rohingya woman who goes by just one name, is living in the Cox's Bazar camp with her grandson and daughter-in-law while her only son is abroad. She learned about COVID-19 prevention when she visited the IRC health center for other health issues.
Ambia joined a COVID-19 awareness session at the center and had many questions for the IRC staff. When she heard that elderly people are at higher risk of death from coronavirus, she was shaken. Who would look after her family in an emergency?
"I am already in my 60s but still I am not worried about myself," she says. "I am worried because if I get infected my grandson will also have a chance to get infected."
Ambia is taking all the precautions she learned from the IRC—such as following proper handwashing techniques—and is ensuring her grandson and daughter-in-law do the same.
IRC community health volunteers are trying to reach as many people like Ambia they can with information about COVID-19, and how they can protect themselves from infection and prevent the spread of the disease. But Dr. Muhaiminur believes even more needs to be done to protect everyone living in Cox's Bazar.
"Although all the humanitarian agencies are doing awareness about COVID-19," he says, "I think still it is not enough to convey the seriousness of the outbreak to a large population."
Even his patient Sakera Akter says she has had trouble accepting the gravity of what she's hearing about the new disease, saying, "I am not sure why it is so dangerous, because flu-like symptoms are very common for us."
But Dr. Muhaiminur and the IRC health team in Bangladesh will persevere in their efforts to educate the people they serve about COVID-19 risks and precautions—and to prepare themselves as Cox's Bazar braces for its first confirmed cases in the ongoing pandemic.
"As a doctor I always hope the effect will be minimal, but we are doing our best to get ready," Dr. Muhaiminur says.
"I just can hope for the best."