"I became a teacher, not just to develop myself, but because I wanted to help those in need—the poor ones, the little ones, the ones that don't go to school," says Fatima, a teacher in Maiduguri, a city in northeast Nigeria scarred by a decade of violence. She smiles at the excited children in sky blue school uniforms peeking through the doors and empty window frames of her classroom.
Fatima works with the International Rescue Committee to help the many children in Maiduguri who have missed out on school to catch up with literacy and numeracy before eventually transitioning into mainstream education. But Fatima's lessons aren't just focused on reading and writing. She also teaches her students mindfulness techniques, including deep breathing, that research has shown can help them cope with the impact of living through conflict.
Ten years ago, the beginning of a violent insurgency turned the lives of people in northeast Nigeria upside down. Millions of families were forced to flee horrific attacks on their homes, and 2 million people are still displaced. Hundreds of schools have been closed or destroyed, and it's estimated that 2 million children in the region are in need of education. 
This emotional support is really important for the students … and also for me.
Fatima and the IRC are giving hope to children in northeast Nigeria who are struggling to deal with their traumatic experiences and the daily hardships of displacement and poverty. "We don't just teach math and literacy—we clap, we laugh, we do deep breathing, and then we sit down for a lesson," Fatima says. "This emotional support is really important for the students … and also for me." 
When she was training to become a teacher for the IRC, Fatima realized that she was living with her own share of trauma after witnessing violence as a teenager. "That day is something I'll never forget," she says. "When the bomb went off at the school across the street from mine, I saw everything with my own two eyes."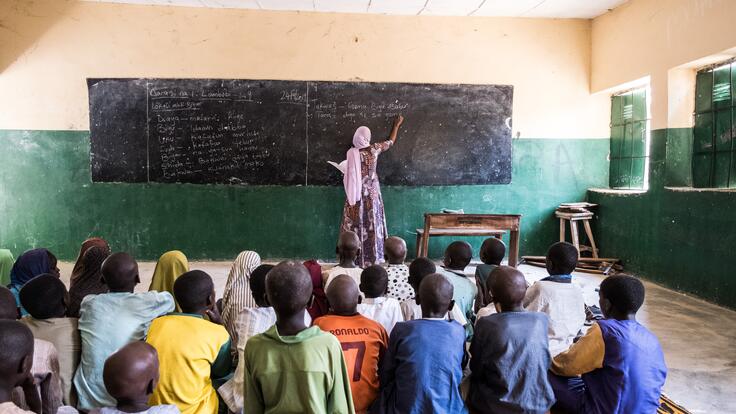 "At that time we only knew bombs from TV," she recalls. "When I heard the boom, I started running. I saw other people running too, and blood shedding everywhere. I cried so much."
For the next six years, Fatima barely left her home. The attacks became so frequent and severe that Maiduguri residents felt they risked their lives each time they walked the streets. Fatima's experience continued to haunt her. "Every time I sat down, I'd think of what I saw. I felt dizzy, I got so many headaches. The only thing that helped was taking medicine to help me go to sleep."
"But with the help of my training, I learned that I had toxic stress," Fatima says, describing a type of mental health issue that if left unaddressed can lead to problems with brain development in children. "I needed to be around people, to listen to music, to do deep breathing. That's how I manage my stress—I don't need to take medicine anymore."
When I see my students happy, I feel so happy.
Fatima is proud to be able to teach her students the same coping techniques that changed her life. "My favorite moments are when I'm with the children," she says. "When I see my students happy, I feel so happy."
Find out more
The IRC gives displaced children a sense of home when their own home has been taken away.
In Nigeria, we're training teachers like Fatima to give them the emotional support they need to rebuild their lives. Our education in emergencies work in Nigeria is made possible by support from UK Aid. Learn more about IRC education programs around the world.
A version of this story was first published by IRC-UK.