When Syrian refugee Tamam Al Sharaa and his family arrived in New York Dec. 2, en route to their new home in Texas, they were relieved to have left the horrors of war behind. 
Tamam had endured years of fighting between government and rebel forces before deciding to leave Syria after soldiers threatened to impress him into the army. He, his wife, Bothina, and their two children fled to Jordan, where they spent two years scraping by because they were forbidden to work.
So when Tamam and his family were offered the opportunity to apply for refugee status in a third country, they jumped at the chance. After a painstaking 18-month application and screening process, the refugees were told they would be resettled in Texas.
Now the family (along with Tamam's parents) was startled to learn from International Rescue Committee representatives who met them at the airport that they had become the center of a political storm over the resettlement of Syrian refugees in the U.S. Texas Gov. Greg Abbott declared the state would not accept Syrians, citing security concerns after the Paris terrorist attack. Texas demanded the IRC "halt the resettlement" of the family and sued the organization.
"It was very confusing," recalls Bothina. "We always heard that America was the land of freedom."
The IRC pushed back, arguing Texas officials had no legal authority to bar resettlement and declaring that "refugees are victims of terror, not terrorists." The state backed down, and on Dec. 7, the Al Sharaas arrived in Texas, where they were greeted by an IRC caseworker who accompanied them to their new home, an apartment in North Dallas.
The family is among only 1,752 Syrian refugees who have been admitted to the U.S. since the Syrian crisis began. The IRC has called for the U.S. to resettle 100,000 before the end of 2016, noting that refugees are vetted more intensively than any other immigrant group seeking to enter the U.S.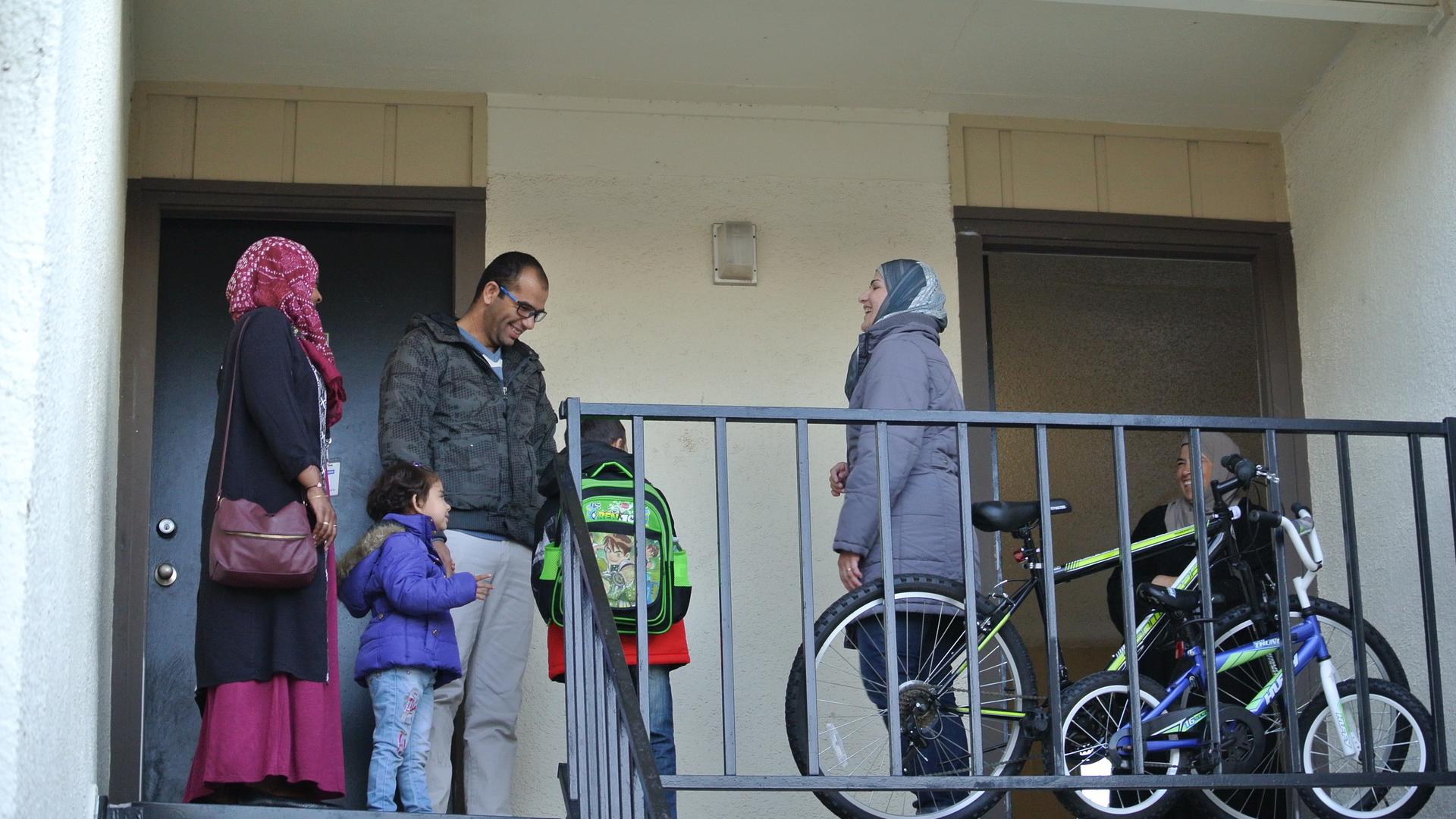 The Al Sharaa family is settling into their life in America. IRC staff members helped orient them in their new neighborhood and to American culture and customs. Tamam and Bothina's 7-year-old son, Majed, has begun first grade at a local elementary school. And
with the IRC's help, Taman is now working at a local air-conditioning company.
"From the time we arrived, our IRC case manager was there to show us our home, explain what to do and where to go. We are incredibly grateful," says Tamam.
"We are peaceful people," adds Bothina. "We just want to live and have a good life."
Update: How the Al Sharaa family is doing almost two years later (September 2017)