It's the last day of Jori's first week of kindergarten.
As Jori finishes breakfast, her mother, Bothina Matar, packs a sandwich and snack for the 5-year-old in a lunchbox decorated with characters from the movie "Frozen." Bothina, Jori and Jori's big brother Majed, 8, then join a stream of families walking from an apartment complex in their Dallas neighborhood to the local public school.
Jori is so excited to go to school. She loves to learn.
Teachers waiting outside the brick building greet the children by name as they arrive—cheerfully urging stragglers to get to their classrooms quickly, before the bell rings.
"Jori is so excited to go to school," Bothina says. "She loves to learn."
Jori and her family arrived in Dallas nearly two years ago as refugees from Daraa, Syria. They had a rough entry. After surviving years of civil war, enduring a grueling vetting process by the U.S. government and being accepted for resettlement in Texas, the family suddenly found themselves at the center of a political storm when Texas Governor Greg Abbott sought to bar Syrian refugees from the state. The family was stranded at an airport in New York.
But after pushback from the International Rescue Committee, the American Civil Liberties Union, and local community groups, Texas backed down and a federal judge eventually rejected the state's effort to block the resettlement of refugees.
Today, the family are among hundreds of Syrian refugees living, working and attending school in Texas.
"They are thriving and happy, and they've made a home in Dallas," says Daley Ryan, deputy director of the IRC in Dallas, which resettled the family.
Bothina is grateful for the warm welcome from her neighbors. Students, teachers and parents at her children's school have been especially supportive, she says. "We are all accepted and feel part of the community here."
When not in school Jori loves to draw and practice the alphabet—in Arabic as well as in English—and Majed likes to learn about science and make origami figures.
"My children feel Syrian and American both," says Tamam Al Sharaa, Jori and Majed's father. "My son speaks English better than me now," he says. "I learn English from him."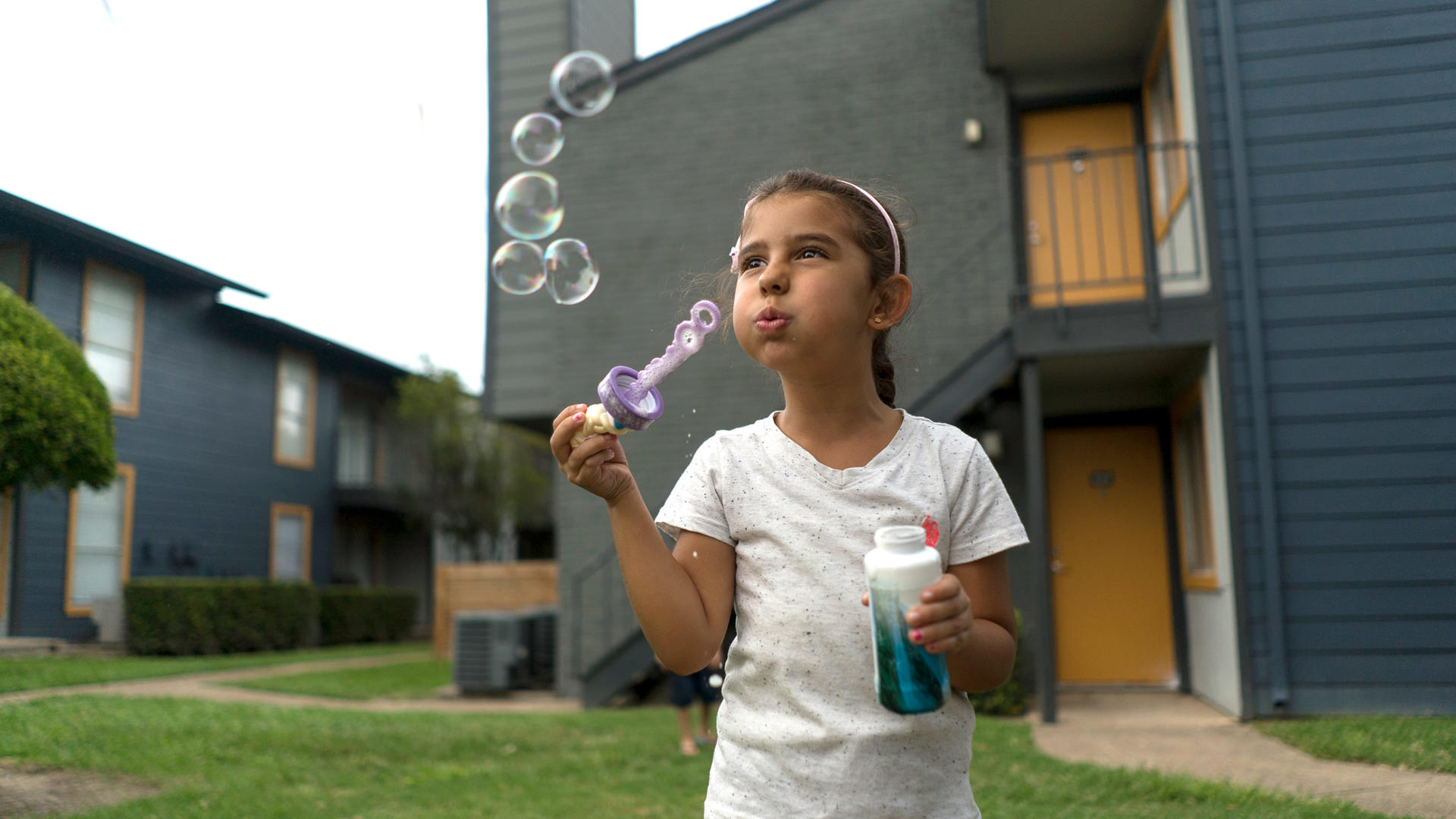 Education has always been important to the Al Sharaa family. Bothina and Tamam met at university, where she studied literature and he geography. Bothina became a teacher and Tamam started an electrical repair business.
But the war ended the couple's careers and their dreams of a future for their children in Syria.
In Dallas, the IRC has provided the family with a solid foundation upon which to rebuild their lives. IRC staff and volunteers found them their apartment, provided English classes, enrolled the children in school and helped the parents find jobs. Today, Bothina works as an artisan trainer at Gaia Empowered Women in Dallas, which sells bags, jewelry and other accessories hand-made by refugee women. Tamam works as an air conditioning installer and technician.
But Bothina and Tamam are proudest of their children.
"I came here for my children," says Tamam. "I am happy they are safe and they are in a good school." "They are doing great," adds Bothina. "They are making friends, the teachers are all so encouraging. They are having a wonderful time."