Now is the time for listening and learning from Black voices.
There are many who have guided the International Rescue Committee – and countless more whose voices deserve to be amplified. Today we are paying tribute to one: Bayard Rustin.
Bayard Rustin was the chief architect of the 1963 March on Washington and a beloved member of the IRC Board of Directors. He was a proud Black man, a proud gay man, a master organizer, a public intellectual, a tireless resister, teacher and enactor of change.
His entire life was spent confronting injustice and refusing to accept the status quo.
Bayard Rustin was born in West Chester, Pennsylvania in 1912 to a single mother, and learned the tenets of activism through his grandmother's Quaker faith. As a young man he campaigned against racial discrimination — including labor inequality and segregation in the military — while laying plans for boycotts, early Freedom Rides, and the March on Washington years before they took effect.
By the time Rustin met Dr. Martin Luther King, Jr., he was already well-versed in Gandhi's tactics. He was the person who taught Dr. King about India's independence mobilization strategies. Rustin's ability to think critically and cross-culturally proved invaluable. The March on Washington garnered over 200,000 participants and was a turning point in the Civil Rights movement.
As chief organizer, he coordinated everything from logistics, to messaging, to handling of press, to delivering action items to the administration. "The eradication of economic degradation was a key goal of the march," writes the Center for American Progress. "Rustin and the other organizers believed that economic freedom was foundational to achieving justice and liberty for all."
The proof that one truly believes is in action.
Rustin had a "compassionate compulsion to assist those denied decency," said Liv Ullmann, who sat with him on the IRC Board. Here at the IRC, Rustin helped form our modern U.S. refugee resettlement program. He saw human progress and the fates of oppressed individuals as linked: Civil Rights inextricable from LGBTQ Rights, inextricable in turn from the rights of refugees.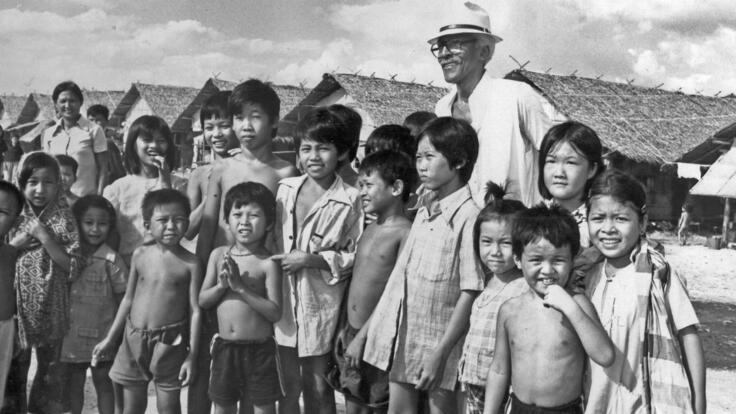 He wrote op-eds and letters to U.S. presidents advocating for refugee admissions. He even placed a statement in The New York Times in 1978, imploring the U.S. government to do more for people trying to escape war and persecution. The statement was endorsed by over 80 Black community leaders, and led to significant increases in admissions.
One has to fight for justice for all. If I do not fight bigotry wherever it is, bigotry is thereby strengthened.
Rustin was part of a powerhouse IRC Citizens Commission, which included Rabbi Marc Tannenbaum, Joan Baez, Liv Ullmann, Father Robert Charlebois, and Rustin's dear friend Elie Wiesel. The team testified before government bodies and marched to the White House on behalf of refugees. They drew from U.S. Civil Rights movement tactics, leading sit-ins and marches and singing songs to raise awareness about hunger. During one such protest at the Thailand-Cambodia border, Rustin offered his beautiful singing voice. To the tune of We Shall Overcome, he sang: "Children will be fed. Mothers will be fed. And all will be fed some day.
The committee members traveled to El Salvador, Laos, Thailand, Malaysia, Vietnam, Hong Kong, Indonesia, and Cambodia. Rustin loved meeting refugees on these trips, and would leave the group to spend time with families."In visits to [refugee] camps, Bayard often went his own way," writes Daniel Levine in Bayard Rustin and the Civil Rights Movement. "He did not want to be briefed but would wander among the refugees, find someone who spoke some English, and get to know a particular family ... Then he would rejoin the group, sometimes with his new friends, and have not statistics or generalizations but specifics about individuals to give detail to the more general picture."
We need, in every community, a group of angelic troublemakers.
While the IRC had the privilege of knowing Bayard Rustin, and celebrating him as a leader of our organization, many came to learn about his impact after his death. Because he was gay, Rustin was unjustly required to work behind the scenes for much of his life. As a result, public awareness of his role and impact was minimal. In 2013, President Barack Obama posthumously awarded him the Presidential Medal of Freedom. Today, the Bayard Rustin Center for Social Justice, the A. Philip Randolph Institute, the Rustin Fund for Global Equality and the Bayard Rustin Fund continue Rustin's vision and message. 
Bayard Rustin stood for humanity. He taught us that "character is a matter of judgment within the context of a whole life." The IRC remains committed to this long-term work.