The United States has a long tradition of offering refuge to those fleeing persecution and war. With support, refugees go on to thrive and contribute to their new countries in many different ways. Meet some of the well-known artists, ambassadors, CEOs and other luminaries who were once refugees.
Albert Einstein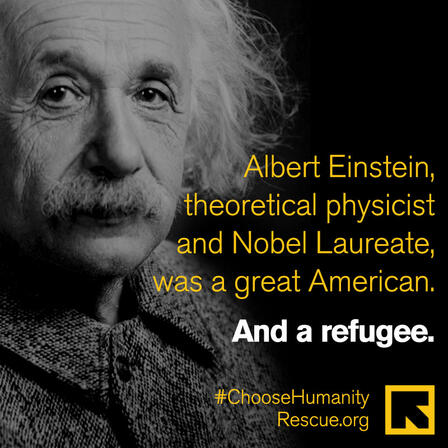 "Peace cannot be kept by force; it can only be achieved by understanding."
The physicist Albert Einstein arrived in America in 1933 after he and thousands of other Jews fled persecution in Nazi Germany. That year, the Nobel laureate and humanitarian called for the founding of the aid organization that was to become the International Rescue Committee.
Although much of the world greeted the Nazi takeover with indifference or apathy, some people were alert to what was happening and the threat it represented. By July 1933, a new rescue committee of 51 concerned individuals had swung into action, galvanized by Einstein.
 
Madeleine Albright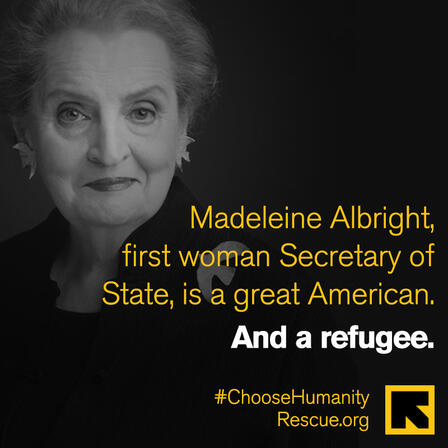 "I think it enriches our country to have refugees here."
In 1997 Madeleine Albright became the first woman to be appointed U.S. Secretary of State. The daughter of a Czech diplomat, she was a refugee during World War II in England, where she lived through the Blitz. Her family returned to Czechoslovakia after the Nazis were defeated, but escaped to the U.S. after the Communist takeover of their country. She arrived on Ellis Island in 1948 at age 11.
Albright was honored with the IRC's Freedom Award in 1998 for her "extraordinary service to humanity, freedom and the cause of refugees." She is currently an IRC Overseer.
Elie Wiesel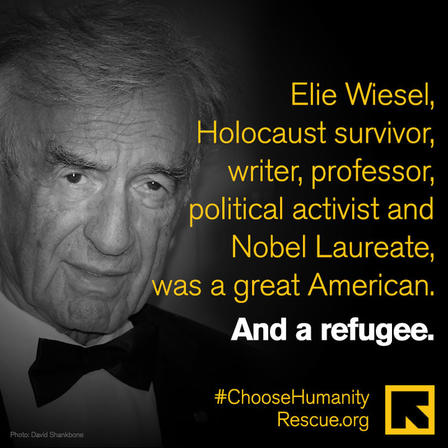 "Wherever men and women are persecuted because of their race, religion, or political views, that place must—at that moment—become the center of the universe."
Elie Wiesel was born in what is now Romania. As a teenager he survived the Nazi concentration camps of Auschwitz and Buchenwald and went on write books that bore searing testament to the slaughter of more than 6 million Jews in World War II. Indifference, he said, was the epitome of evil. The author, educator and political activist received the Nobel Peace Prize in 1986.
In 1987 Wiesel was honored with the IRC's Freedom Award. He was a longtime IRC Overseer.
Gloria Estefan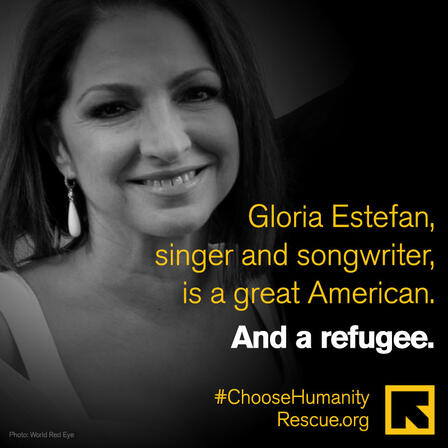 "You've got to believe. Never be afraid to dream." 
Gloria Estefan fled the Cuban Revolution with her family in 1960 after the rise to power of Fidel Castro. They arrived in the U.S. when she was just two years old. Her father was a political prisoner after the Bay of Pigs invasion and later served in the U.S. Army in Vietnam.
The seven-time Grammy Award-winning singer and songwriter is known for her activism and philanthropy as well as for chart-topping hits. Estefan and her husband Emilio have received the United States' highest civilian honor, the Presidential Medal of Freedom.
 
Sergey Brin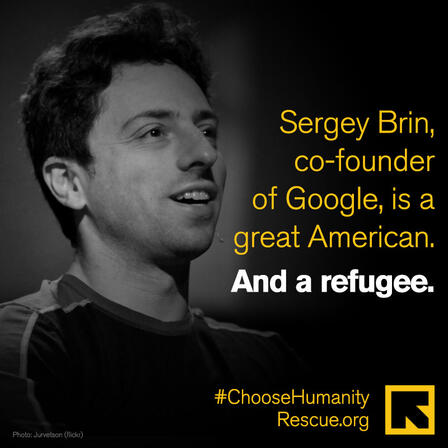 "I want to be looked back on as being very innovative, very trusted and ethical and ultimately making a big difference in the world."
Google co-founder Sergey Brin was born in Moscow in 1973. When he was six years old, his family emigrated to the U.S. to escape the growing anti-Semitism in the Soviet Union. At Stanford Univerity he met fellow computer science doctoral student Larry Page. Together they developed a search engine that would grow into an internet giant.
In November 2016, Brin was ranked No. 13 on Forbes' "Billionaires" list. Brin's and Google's philanthropy includes support for the cause of refugees.
 
Meet more famous refugees
Josef Albers, Artist
Hannah Arendt, Philosopher and Author
Mikhail Baryshnikov, Dancer
Max Beckmann, Artist
Hans Bethe, Physicist and Nobel Laureate
W. Michael Blumenthal, Former Secretary of Treasury, IRC Overseer
Marc Chagall, Artist
Nadia Comaneci, Olympic gymnast
Salvador Dali, Artist
The Dalai Lama, leader-in-exile and Nobel Laureate
Peter Drucker, Author and Management Consultant
Max Ernst, Artist
Lion Feuchtwanger, Author
Andy Garcia, Actor
Alexander Ginsburg, Russian dissident during the Cold War
Roberto Goizuetta, former CEO of Coca Cola
Walter Gropius, Artist
George Grosz, Artist
Andrew S. Grove, Chairman of Intel Corp., IRC Overseer
Henry Grunwald, Former Editor-in-Chief, Time Inc.,
John Heartfield, Artist
Thich Nhat Hanh, Zen Buddhist Master
Wassily Kandinsky, Artist
Henry Kissinger, Former Secretary of State, IRC Overseer
John G. Kemeny, computer pioneer and President of Dartmouth College from 1970-81
Andre Kertesz, Photographer
Oskar Kokoschka, Artist
Madeleine Kunin, former U.S. Ambassador to Switzerland, former Governor of Vermont
Tom Lantos,  U.S. Congressman (Calif)
Fernand Leger, Artist
Jacques Lipchitz, Artist
Andre Masson, Artist
Andre Meyerhoff, Scientist and Nobel Laureate
Ludwig Mies van der Rohe, Architect
Dith Pran, Photographer
Gen. John Shalikashvili, Former chairman of the Joint Chiefs of Staff
Aleksandr Solzhenitsyn, Author