The United States has a long tradition of offering refuge to those fleeing persecution and war. With welcome and support, refugees go on to thrive and contribute to their new countries in many different ways. Learn about some of the well-known artists, ambassadors and other luminaries who were once refugees.
Which famous physicist called for the founding of the IRC?
Stephen Hawking
Albert Einstein
Carl Sagan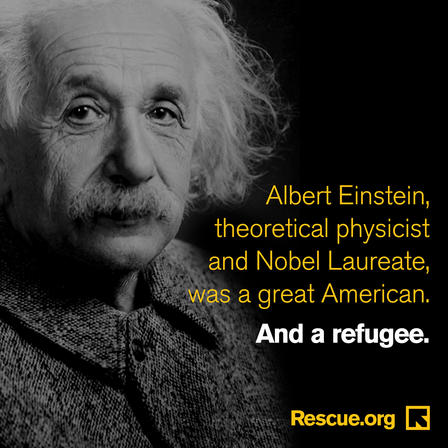 The physicist Albert Einstein arrived in America in 1933 after he and thousands of other Jews fled persecution in Nazi Germany. That year, the Nobel laureate and humanitarian called for the founding of the aid organization that was to become the International Rescue Committee (IRC).
Although much of the world greeted the Nazi takeover with indifference or apathy, some people were alert to what was happening and the threat it represented. By July 1933, a new rescue committee of 51 concerned individuals had swung into action, galvanized by Einstein.
Among them were the philosopher John Dewey, the writer John Dos Passos, and the theologian Reinhold Niebuhr. Other prominent citizens, even including First Lady Eleanor Roosevelt, soon joined the effort.
The committee established offices at 11 West 42 Street in New York City, across from Bryant Park and not far from the IRC's current headquarters location. Its mission, as The New York Times reported on July 24, 1933, was to "assist Germans suffering from the policies of the Hitler regime."
Which refugee became the first woman to be appointed U.S. Secretary of State?
Madeleine Albright
Ilhan Omar
Hannah Arendt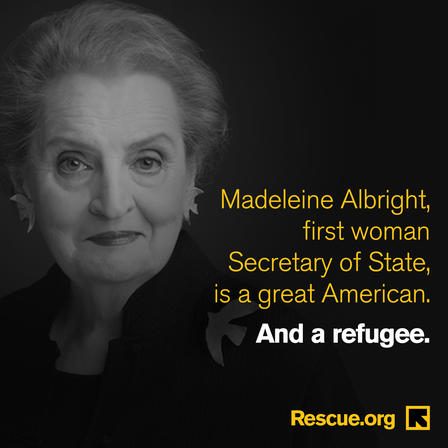 In 1997 Madeleine Albright became the first woman to be appointed U.S. Secretary of State. Albright was born in Prague and the daughter of a Czech diplomat.
Her family fled to London when Hitler invaded Czechoslovakia during World War II. They returned to Czechoslovakia after the Nazis were defeated, but escaped to the U.S. after the Communist takeover of their country.
Albright arrived on Ellis Island in 1948 at age 11. She was honored with the IRC's Freedom Award in 1998 for her "extraordinary service to humanity, freedom and the cause of refugees." She is currently an IRC Overseer.
Which refugee was an early modernist and recognized as "the quintessential Jewish artist of the twentieth century"?
Annie Leibovitz
Sol LeWitt
Marc Chagall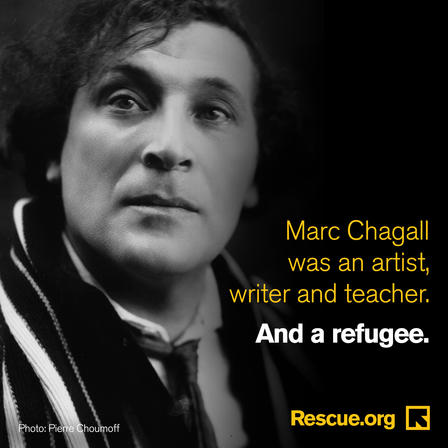 A pioneer of modernism, artist Marc Chagall is known for his poetic, colorful, and figurative paintings, earning him recognition as "the quintessential Jewish artist of the twentieth century." He later contributed a print to the IRC's "Flight" portfolio to help raise money for our humanitarian work.
Born in Russia, Chagall moved to France in 1910 to study painting. By 1941, he was among 1,500 refugees on the Nazis' "most-wanted" list who were spirited out of France during a rescue effort by the organization that became the IRC.
Which refugee singer and songwriter made headlines for her self-directed music video, "Borders?"
M.I.A.
Gloria Estefan
Mila Kunis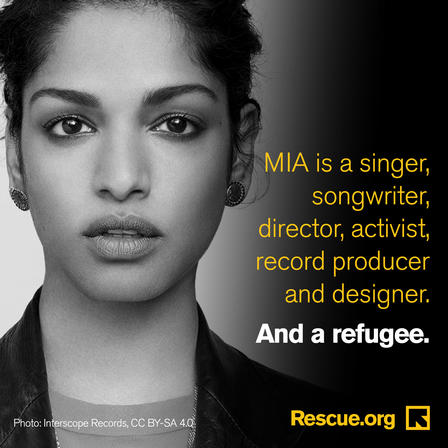 Rapper and activist M.I.A. (Mathangi Arulpragasam) was just nine years old when she fled war-torn Sri Lanka with her family and settled in England. Those experiences inform her music and art, which draw attention to the struggles of refugees and immigrants. 
She said her debut album Arular was created to "make every refugee kid that came over after me have something to feel good about." In 2015, she made headlines for her self-directed music video, "Borders," which follows refugees on a treacherous journey to find safety.
M.I.A. is the first person of Asian descent nominated for an Oscar and Grammy in the same year. M.I.A. has contributed to humanitarian causes that include education for children in Liberia, a country recovering from a 14-year civil war.
Which superhero was a refugee?
Superman
Spiderman
Wonder Woman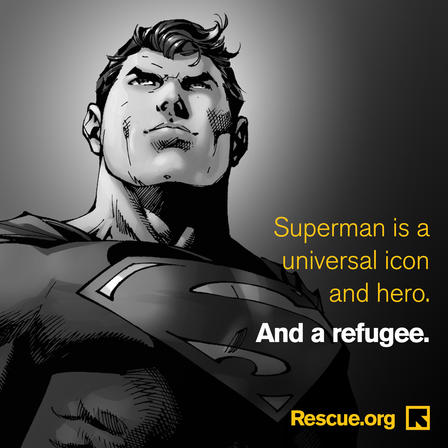 Rocketed to Earth from the dying planet Krypton, baby Kal-El was found by a Kansas couple who named the boy Clark Kent and raised him as their own. Discovering his enormous powers, they instilled in him strong moral values—and inspired him to become a hero.
Kal-El—Superman—was created by comic book artist Joe Shuster and writer Jerry Siegel, both the sons of Jewish immigrants.
A universal icon, Superman is both an alien trying to help the planet that gave him refuge and an all-American boy fighting the never-ending battle for truth and justice.