A new day is dawning for Ahmed*, a 17-year-old boy from Syria. 
Three years ago he was forced to leave his parents in Aleppo. 
At the age of 14, Ahmed fled to Turkey for safety. He remained there for a year, working odd jobs in restaurants and shops to sustain himself. He saved just enough to pay smugglers the required fee to reach Greece. 
He then made the perilous journey across the sea from Turkey to Greece. 
Ahmed arrived at a time when many thousands of refugees were landing on Greece's shores in tiny, overcrowded boats. Among them were many children – forced to make the journey alone in the hope of reaching safety.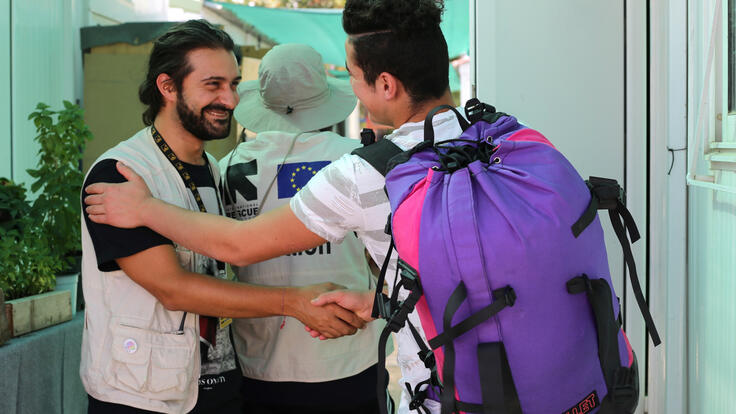 While some attempt to reach northern Europe, border closures without protection meant that many are stuck in Greece. Their lives have not only been left in limbo, but without parents to protect them they are at risk of abuse and exploitation, forced to take their lives into their own hands.
A helpless situation
Living in Greece without anywhere to stay, Ahmed was forced to sleep on the streets for two months.
"I was homeless… but nobody helped me. I was thinking of returning back to Syria, but I didn't."
While there are around 2,800 unaccompanied children in Greece, there are only around 1,100 beds available for them in shelters, making homelessness a reality for many.
Since January Ahmed has lived at an IRC Safe Zone for unaccompanied children in Eleonas refugee camp in Athens, a site which hosts around 2,000 refugees. The Safe Zone is meant to provide temporary shelter for unaccompanied children, many of whom spend their first nights in police custody, once they are picked up from the streets. 
"Although living in a camp for 9 months is not easy, it's much better that living on the streets," he says.
The IRC's Safe Zones help ensure children receive protection while they await transfer to an accommodation facility. Set up to remove children quickly from police custody, Safe Zones also help children who are homeless.
IRC case workers and psychologists provide emotional support for all unaccompanied children, and teach skills - like how to build healthy relationships, how to stay healthy and have a routine. Many activities take place creatively, through theater or through sport. These trained professionals are available for children to access 24 hours a day, 7 days a week. 
Hope for the future
Today Ahmed will take a one-way ticket to Germany to be reunited with his uncle. 
"The journey for me started the day I left Syria and ends in Germany where I'll wake up tomorrow."
Today Ahmed boards a flight to Germany - and he cannot contain his excitement. "I feel like I am already in Germany... Now I want to explore Germany, be educated and learn German!"
Standing outside the IRC Safe Space, he rummages through his neatly packed suitcase.
"It was a tiring trip," he says. "I will not miss any part of it. From now on my life will continue — in Germany."
Learn more
Find out more about the IRC's work supporting refugees across Europe.
With the support of EU Humanitarian Aid, the IRC is able to provide much needed protection and care to unaccompanied children like Ahmed. In Greece, ECHO is funding two IRC Safe Zones, in Athens and in Northern Greece. The IRC provides protection, care and support for 60 unaccompanied children from Afghanistan, Syria, Iraq, Pakistan and other countries.
*Name has been changed to protect his identity.