Exactly a year ago, a journalist photographed a small, lifeless body stranded on a Turkish beach, a casualty of yet another overcrowded boat capsized by high waves. The image focused the world's attention on a crisis that had been building for years—the largest migration of people since World War II.
Alan Kurdi* was one of more than a million refugees fleeing violence in Syria, Iraq and Afghanistan. Tens of thousands braved the short yet perilous voyage across the Aegean Sea in dangerously overcrowded dinghies, then forged on through the Balkans to Germany, Sweden and other northern European countries.
Now refugees who make it to Greece just wait—wait for borders to open. They wait to hear whether Europe will allow them join loved ones and make a new start, or send them back the way they came.
Refugees are fleeing violence and persecution and seeking to rebuild their lives. Please join us in calling on world leaders to #Choose Humanity: Add your voice.
Six people living in limbo in refugee sites in Greece talk about what they escaped in their home countries and where they hope to take their lives. Read their stories: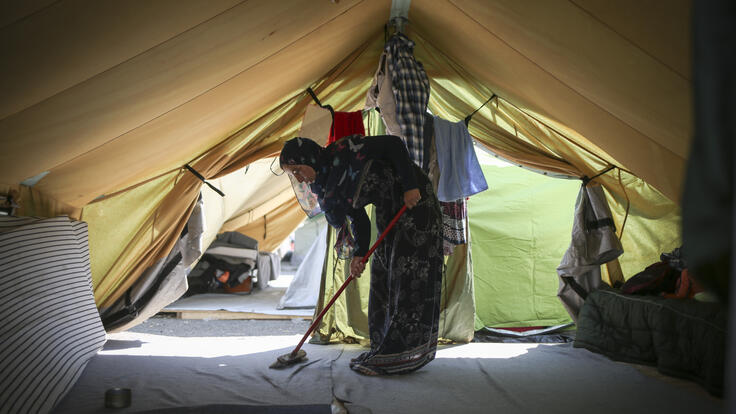 Waiting to be reunited with family
In March 2016, the European Union and Turkey struck a deal which aimed to stop refugees from coming to Europe. The deal, combined with closed borders along the Balkan route typically used by refugees means that right now, approximately 58,000 refugees are in Greece, many of whom have been given no indication as to when they can move on with their lives. Sixty percent are women and children. Many are
the mothers, wives and daughters of refugees already in northern Europe. 
"It has been four months since I saw my husband," says Rehab**, who has been stuck in a camp in Greece, still hoping to travel on to Austria. "And I have to wait another four months for my appointment [at the asylum office]. I have four children, and I am alone. When I go to the bathroom, I have to ask someone to look after my children. When I queue for food, I have four children to watch over."
Waiting for relocation and asylum
To be eligible for relocation in other countries in Europe, refugees must have arrived in Greece before the EU-Turkey agreement was put into effect on March 20.
Afghans and Iraqis are not eligible for relocation. Their only option is to apply for asylum. That said, Syrians are given priority so Iraqis and Afghans must wait interminable amounts of time even to get that critical first appointment to pre-register for asylum.
Ahmed* and his wife, Fatima, fled Aleppo, Syria, with their three children after their 16-year-old son was killed by a bomb while helping to collect corpses in the aftermath of an airstrike. He was the second son they lost to the war: their 13 year old was shot by a sniper. They're hoping to reach family in Germany.
Waiting for an education
Growing up amid war, 7-year-old Silva* has never been to school. Her family fled Syria to the Alexandria refugee camp in Greece, where she practices arithmetic and the English alphabet with her mother.
There are almost 27,500 children stranded in Greece without access to education. In several of the refugee camps, the IRC provides informal lessons in Greek language, math and art.
Waiting to go back to work
Refugees are eager to go back to work and regain a sense of belonging. Many are professionals—teachers, mechanics and lawyers. Salahaddin* used to work as a painter in Syria. "I want to carry with on my work," he says. "I like houses to look pristine, with clean paint."
Waiting to get married
Montaman*, 21, and his finance, Nimreen, were engaged in Syria but fled to Greece after fighting engulfed their hometown. "We are waiting until we get to a European country [to get married]," says Nimreen, 18. "Then, we will get a house. We cannot live here, this is not a way to live.… Here, if you want to eat, you have to wait. You want to shower, you wait. In this heat we need to shower four or five times a day. Our clothes need to be washed every day, it is so dirty. For everything, you have to wait."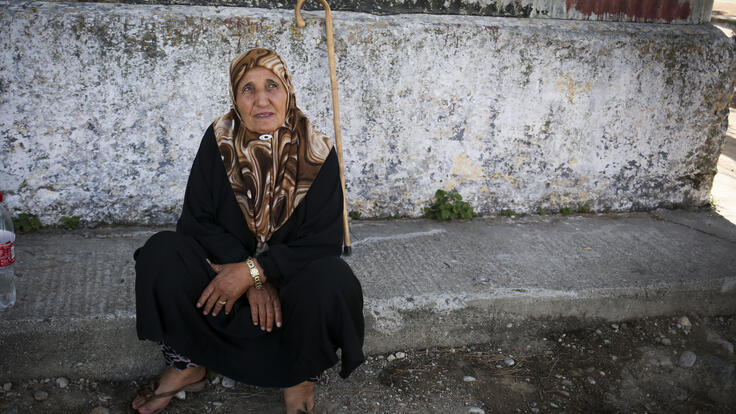 Waiting to go back home
Marian* lost her only son to the war in Syria. At age 60, she fled from Damascus to Jordan with just her cane, then to Turkey where she boarded a crowded dingy for the dangerous trip to Greece.
"I want to go back to Syria," she says. "I want the war to end, so I can go home."
*Previously reported as Aylan Kurdi
**Last names have been omitted for privacy reasons.