Refugee crisis briefing
The civil war in Syria has been one of the largest drivers of the global refugee crisis, which has left 65 million people displaced. With neighboring countries no longer able to absorb uprooted Syrians after more than five years of fighting, hundreds of thousands of refugees have fled to Europe to seek safety and better lives.
What is the source of the crisis?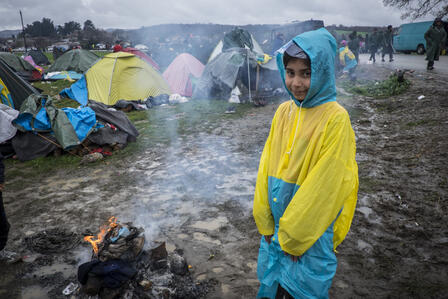 Since civil war exploded inside Syria in 2011, over 12 million people have fled their homes, with almost 5 million refugees sheltering in neighboring states that are struggling to support them. Several rounds of peace talks have failed to stop the fighting.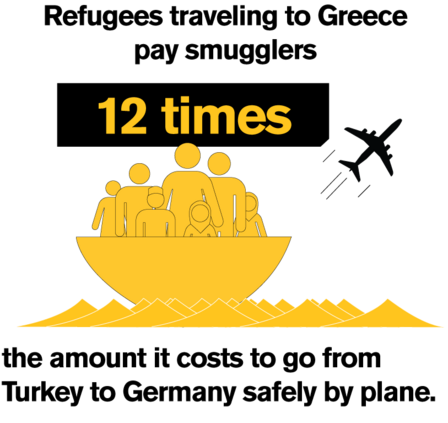 The ongoing violence in Syria, Iraq, Afghanistan and other countries in crisis has pushed over 1 million desperate people to seek safety and a new start in Europe. Most of the refugees have arrived on the islands of Greece. Lesbos alone has seen thousands of people a day land on its shores in dangerously overcrowded rubber rafts before pushing on to the continent.  
As the flight to Europe continues, some lawmakers in the United States  — prompted by unfounded security fears — have moved to block the arrival of the comparatively few Syrians and Iraqis who have been accepted by the U.S. for resettlement.
How is the IRC helping?
The IRC is the only international aid organization working on all fronts of the crisis.
In the Syria region: Syria, Iraq, Jordan, Lebanon and Turkey: More than 2,000 IRC aid workers and local volunteers operating inside Syria and in four neighboring countries have reached over 4 million Syrians fleeing violence with emergency relief and long-term support. We're focusing on health care, protection of vulnerable women and children, education, and economic recovery and development.
In Afghanistan:  The IRC has worked inside Afghanistan for nearly three decades and currently reaches over 4 million people in more than 4,000 communities, focusing on community-driven reconstruction projects and education. We also provide emergency relief to people who have been forced to flee their homes by violence.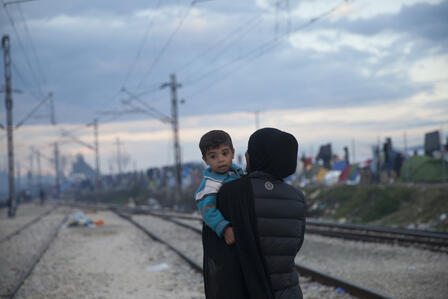 In Europe: The IRC was one of the first aid organizations to assist the thousands of refugees arriving each day on the Greek island, Lesbos. IRC aid workers continue to work around the clock in Greece and in Serbia to provide essential services, including clean water and sanitation, to families living in terrible conditions. And we are helping new arrivals navigate the confusing transit process and understand their legal rights.
 
In the United States: The IRC has 29 offices across the country and has resettled 270 of the 1,541 Syrian refugees who have been accepted into the U.S. We provide immediate aid to refugees, including food and shelter, as well as access to the tools of self-reliance: housing, job placement and employment skills, clothing, medical attention, education, English-language classes and community orientation. We're also calling for U.S. leaders to do more, and accept 100,000 Syrian refugees by the end of 2016.
Get an in-depth update on the IRC's crisis response.
How can I help refugees?
Donate to the IRC's response to the refugee crisis
The work of the IRC is possible only through the generosity of caring people like you. Your gift helps the IRC respond immediately and effectively to protect vulnerable families in most desperate need. You can help us aid refugees fleeing to Europe from Syria, Afghanistan, Iraq and other countries in crisis by making a contribution in support of the IRC's emergency response.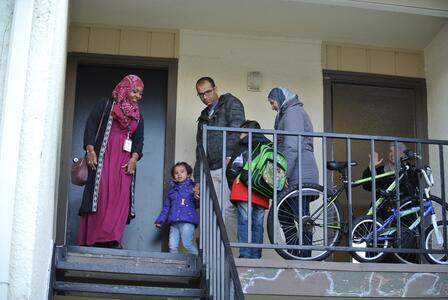 More ways to help
How can I volunteer to help refugees? Can I donate clothing or other goods to refugees? Your questions about how you can get involved are answered in our FAQ.
3.3 Million
Syrians fleeing violence with vital assistance delivered by more than 3,000 IRC aid workers and local volunteers operating in five countries in the Middle East.
5
local nonprofit organizations in Serbia with support that enables them to provide urgently needed aid to thousands of refugees en route to Europe.
The IRC previously worked in Serbia for 12 years, assisting people fleeing fighting in Kosovo, Bosnia and Croatia. We closed the program in 2004.
Read about our work in Serbia.
270
of the 1,541 Syrian refugees who have been accepted into the U.S. with resettlement support.
We support newly arrived refugees by greeting them at the airport and providing immediate aid, including food and shelter.
See where we work in the U.S.