The International Rescue Committee and Sesame Workshop—the nonprofit, educational organization behind Sesame Street—are working together to give millions of refugee children in Syria, Jordan, Lebanon and northern Iraq the support they need to learn, grow and thrive.
Watch the November 17 episode of "60 Minutes" to see our partnership in action — now streaming online.
The Syrian refugee crisis is the defining humanitarian issue of our time. It challenges our morals, imagination, leadership, and global stability. Failing to act can cast a long shadow: a lost generation of children whose lives are forever defined by their experience of war.
Few Syrian children have opportunities to learn and play; many are neglected; some have been exposed to extreme violence and experienced unspeakable trauma that will have a long-lasting impact on their health and future. They are at risk of "toxic stress," a biological response to prolonged and severe adversity that disrupts a child's brain development.
But children are resilient, and if we can reach them early, we can reduce this damage and have a positive influence on their lives. Research shows that nurturing care and learning can reverse the effects of toxic stress, and skills developed in early childhood last a lifetime.
That's where the IRC and Sesame Workshop are determined to help.
We are combining Sesame Street's history of proven educational content with the IRC's decades of assistance in crisis-affected areas to deliver a suite of culturally relevant programming and multimedia content tailored for the needs of refugee children and their caregivers.
"Our partnership with Sesame Street will help transform children's lives by making sure that their social-emotional needs are met so they are able to receive an education, contribute to their community and succeed as adults," said David Miliband, President and CEO of the IRC.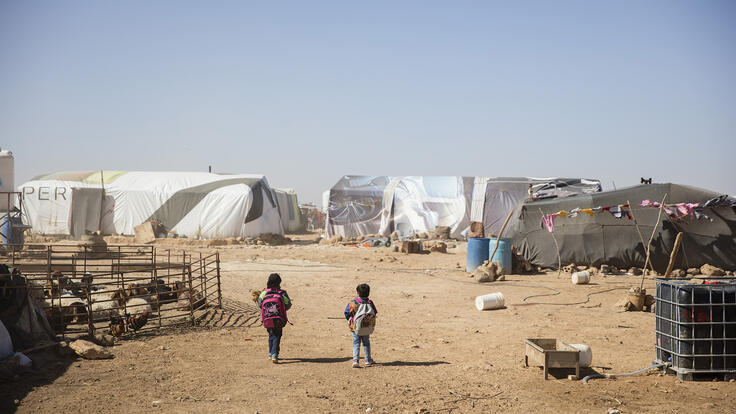 Education for a brighter future
The IRC and Sesame Workshop will help heal the scars of war and cultivate the full potential of an entire generation. Our program, delivered through mass media and direct services, will use proven techniques to measurably transform children's learning and social-emotional skills and mitigate the effects of toxic stress. 
"A dose of normality—that's what children are robbed of," said Miliband. "In the middle of war and persecution, they see unspeakable violence. The danger is that violence becomes the normality. If we can give them love and care and support, then we can try and stave off some of the damage that they are suffering."
Beyond literacy and numeracy, these programs will help children develop social and emotional skills necessary to succeed and cope with challenges. For instance, they will learn how to understand and manage their feelings, follow simple rules and empathize with others.
"We've had a long history of creating local indigenous programming in the Middle East, in Jordan, Egypt and the Gulf," said Sherrie Westin, executive vice president for Global Impact and Philanthropy at Sesame Workshop. "We always look to create something that's truly local, that's reflective of these children's reality. We will look to create an entirely new program that will reflect their reality with Muppets that are indigenous."
Children aren't the only ones who need guidance. We will also be working with parents, teachers and caregivers to more effectively engage and support refugee children as they learn and grow.
"We touch families in every aspect of their lives," said Sarah Smith, senior director of education at the IRC. "Whether it's a community health worker who's going into a home to help a mother who's just had a baby, or whether it's a volunteer preschool teacher in a community center, we'll provide for them the content they need to deliver those services."
All programming will be based on extensive research from the IRC and Sesame Workshop, as well as new, in-depth research that accounts for how refugee children, their parents and caregivers respond to the content.
"Parents we met with in Jordan just a couple weeks ago, these mothers are desperate for help and support," said Smith. "I think any parent knows that if you can't support and help your child, you do feel completely hopeless. They're asking us, and it's really on us to decide if we're going to answer them."
A lost generation—found
We are honored that the MacArthur Foundation has selected this program as the winner of its 100&Change grant competition, which awarded a one-time $100 million grant to "make measurable progress toward solving a significant problem of our time."
It's a once-in-a-lifetime opportunity to launch the largest-scale early childhood development program in the history of the humanitarian aid system, restore hope and opportunity to a generation of children and create a model that will benefit refugees for years to come.
"The issue we are addressing is the greatest humanitarian crisis of our time," said Westin. "We know we can make a difference in the long term if we reach children early. Without that, there's an entire generation at risk, and that has repercussions not just for their future, but for a more peaceful, stable world for all children."
Editor's note: The COVID-19 pandemic will hit displaced and vulnerable families the hardest, including those whom Ahlan Simsim serves. So while in-person Ahlan Simsim programs have been put on hold for safety concerns, we've adapted to use digital tools to reach children and their families directly in their homes. Read more about how this critical programming continues during COVID-19. 
Learn more
Learn more about Sesame Street and the IRC
The IRC's approach to education