Ahlan Simsim, Welcome Sesame
WATCH: On April 26, 2021 ABC aired "Sesame Street: 50 Years of Sunny Days," which includes a special look at Ahlan Simsim, the IRC's partnership with Sesame Workshop, with IRC president and CEO David Miliband. Find out how to stream the program.
The IRC and Sesame Workshop—the nonprofit, educational organization behind 'Sesame Street'—are working together to give millions of children in Syria, Jordan, Lebanon and Iraq the support they need to learn, grow and thrive. We're combining Sesame Street's history of proven educational content with the IRC's decades of expertise in conflict zones to help these young refugees and their families cope with crisis and build a brighter future. 
The name of the program is Ahlan Simsim, meaning "Welcome Sesame" in Arabic. It not only reflects the welcoming, inclusive spirit of the program, but also our goals to restore hope and opportunity to a generation of children.
Here's what our work together involves:
Remote learning opportunities during the COVID-19 pandemic delivered through phone calls, WhatsApp messaging, online videos, and resources for caregivers on how to implement activities in their homes
Safe spaces for children to play and learn, including year-long preschool classes 
Parenting sessions and other support for families, including home visiting programs 
Activity guides for childcare providers 
A new, local, Arabic-language version of 'Sesame Street'
Partnerships with governments and local nonprofits to create lasting solutions for children
Advocacy to ensure more children affected by conflict and crisis have access to quality early childhood development services
Our work continues to be critical during the COVID-19 pandemic. Driven by safety concerns, we've adapted to use phone calls and digital tools to reach children and their families directly in their homes. Together we equip parents with the tools they need to create a nurturing home learning environment that fosters children's resilience during times of crisis.
Worldwide, children with disabilities are often the most marginalized and excluded group in early childhood development and early education programming—particularly in places experiencing conflict or crisis. Through our Ahlan Simsim program, the IRC provides inclusive early child development programs for these critical early years that build a foundation for lifelong learning and growth.
We also train staff on disability inclusion, create accessible physical spaces, and provide activities and materials tailored to the abilities and needs of all children.
The International Rescue Committee and Sesame Workshop are working together to solve one of the greatest humanitarian crises of our time. Here's a look at the problem, by the numbers:
5 million
Conflict and displacement can negatively impact children's development and threaten their long-term health and wellbeing. 
1 in 10 
Children who have experienced conflict and displacement are particularly vulnerable to the long-term effects that prolonged stress has on the developing brain. 
1 in 5
Early childhood education can help reverse the harmful impacts of early stress and trauma while restoring the possibility and hope for a brighter future.
A bold solution
We are honored that the MacArthur Foundation selected this IRC and Sesame Workshop program as the winner of its 100&Change competition, a one-time $100 million grant to "make measurable progress toward solving a significant problem of our time." The LEGO Foundation awarded an additional $100 million to Sesame Workshop, BRAC and the IRC to bring the power of learning through play to children affected by the Syrian and Rohingya refugee crises.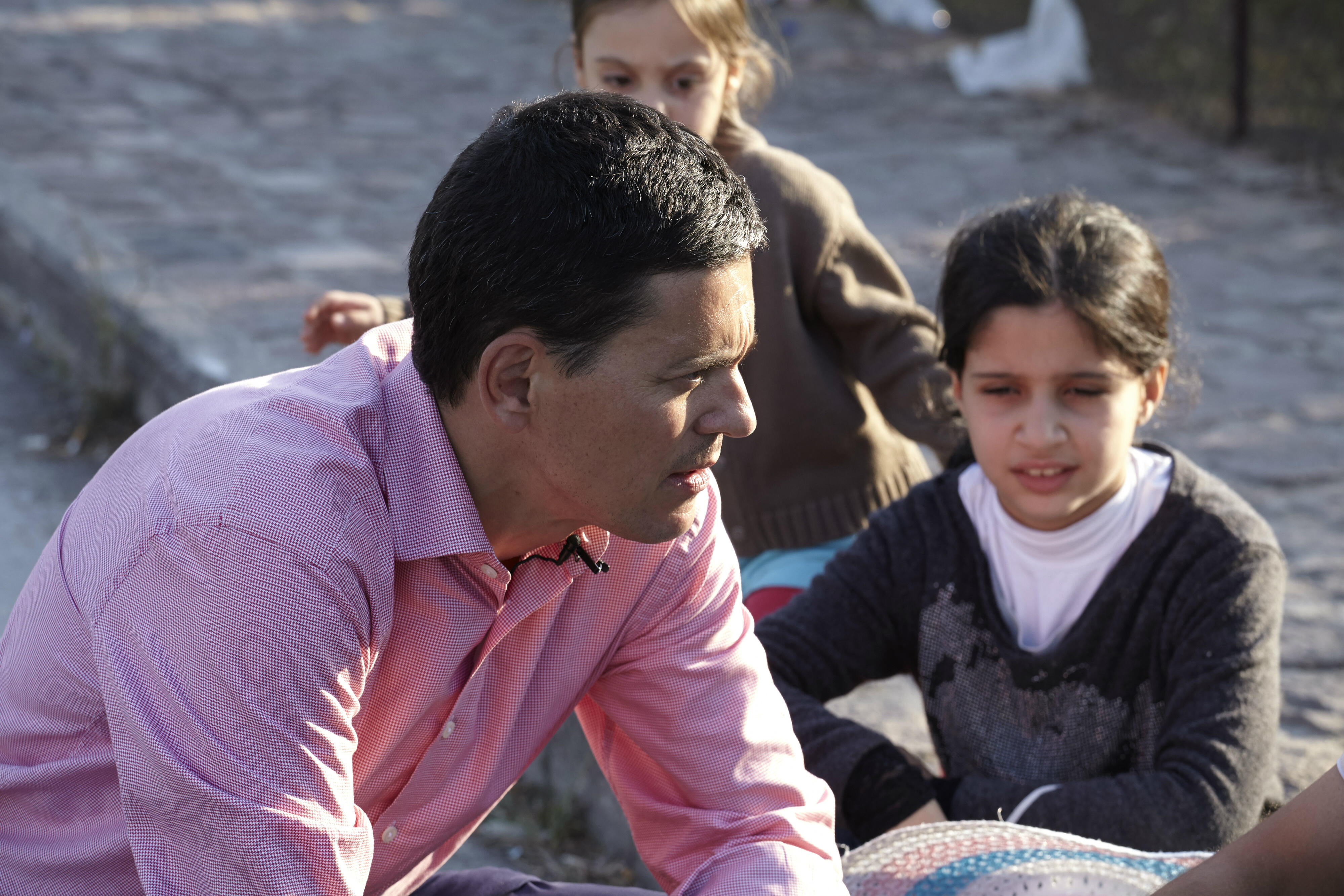 We know now that the average length of displacement for a refugee is close to 20 years. And that's why it's a total tragedy that less than 2% of all humanitarian aid funding goes on education, even though half of the world's refugees are kids.

David Miliband

President and CEO, International Rescue Committee, interviewed on "60 Minutes"