Syria has been in the grip of brutal conflict for almost seven years. The war has created the largest humanitarian crisis of the 21st century, taking 400,000 lives and leaving 13.5 million people in need of aid.
Despite ceasefire talks and the establishment of "de-escalation" areas, civilians across Syria remain in grave danger, and millions have been forced to flee their homes.
The International Rescue Committee (IRC) has 1,000 staff inside Syria but the realities of war make day-to-day life and work extremely challenging.
"Tragically, civilians as well as hospitals and ambulances continue to be the targets of barrel bombs, mortars and airstrikes," said Tom Garofalo, regional director of public affairs for the IRC. "The situation is made worse because of fighting between armed groups in these areas. Sadly, the defining characteristic of this war is its disregard for civilian life and international law."
Millions are still living in life-threatening conditions across four regions of Syria.
Eastern Ghouta
Nearly 400,000 people have been besieged in Eastern Ghouta for the past four years, and the situation continues to worsen. These people are denied their basic rights of freedom of movement as well as access to adequate food, water and health care. According to the United Nations, nearly 1,200 children are at risk of malnutrition. Six hospitals supported by the IRC have also reported cases of malnutrition.
Barrel bombs and airstrikes also endanger civilians and destroy ambulances and hospitals providing lifesaving aid. Meanwhile, violence continues to rage between armed groups on the ground. IRC interviews with families in Eastern Ghouta found that around a quarter of children are unable to get to school, often because they need to work to help support their families or because the journey is simply too dangerous.
This increased violence means it's never been harder for aid agencies to deliver medicine and food to the area.
Southern Syria
While de-escalation areas reduced the threat of air attacks, September saw an increase in fighting among armed groups in Southern Syria. In Eastern Dara'a, the number-one fear reported by people surveyed by the IRC was kidnaps and targeted killings. This conflict has also stunted the flow of commerce and driven up the prices of basic goods for civilians.
Around a quarter of children in southern Syria aren't in school, according to a recent IRC survey, because they need to earn money to help their families, or because it's too dangerous to travel. Children are also being recruited into armed groups in exchange for salaries and food. In fact, around 1 in 20 households were looking after a child from an extended family because the child's parents had been killed or couldn't afford to support them.
Tragically, civilians as well as hospitals and ambulances continue to be the targets of barrel bombs, mortars and airstrikes.
Idlib
Despite being designated as a de-escalation area, the northwest Syrian province of Idlib saw a dramatic increase in air attacks in September against armed groups not covered by any ceasefire agreement. Reports catalogue airstrikes against three hospitals, killing staff and leaving half a million people without medical care.
Fighting between armed groups disrupted the IRC's aid work several times during the past three months.
The defining characteristic of this war is its disregard for civilian life and international law.
Northeast Syria
Away from the de-escalation areas, the war against ISIS rages in Northeast Syria, and civilians continue to pay the cost. This was proven by recent images from the battle of Raqqa, which saw 400 airstrikes in two days, devastating an entire city and wiping out its population.
The focus of the fighting has now moved to Deir al Zour, where more than 200,000 people have been displaced in recent weeks. In one week alone, 15,000 people were forced to flee every day to displacement camps such as Areesha. September also saw reports of 120 casualties, including 100 children at a makeshift camp close to Deir al Zour.
"Living under ISIS meant that you had to follow their strict rules," said an anonymous IRC aid worker* from Areesha displacement camp. "You knew if you broke them you would be punished, even killed. Many have seen loved ones killed or publicly executed by ISIS."
Those who do manage to flee violence face dangerous journeys of up to four days in order to reach safety.
"We ran to the desert after our village was bombed," a woman named Sara* told the IRC. "There for over a week, we had no food and had to drink from the river. We could not bring more than one bottle of water at a time, as we were hiding from ISIS. Two of my children died because of hunger and heat in the desert. They were only one and three years old."
Displacement camps are also being overwhelmed, with people waiting over a week to be registered and finally receive food and health care. While people wait, they live in improvised shelters, assembled from scraps of cloth and old tents. Still, no material protects from the sandstorms that have recently ravaged the region.
"At Areesha, we have far more people than there is space," said the IRC aid worker. "People have to share tents with up to two other families, some tents with more than 20 people. Life is difficult here because there is no tent for shelter for 20,000 people [waiting outside] Areesha camp. There is no food—only one piece of bread a day for 25,000 [in the camp], while the others have nothing to eat."
 
The IRC has distributed ready-to-eat meals to nearly 5,000 families at Areesha camp, and is beginning health screenings and setting up mobile health clinics to ensure that people's health needs are identified and met. As winter approaches the IRC also hopes to provide families with blankets and plastic sheeting to better insulate tents from the wind, as well as cooking and hygiene items.
"I've had people say, 'Yes, we are living in a bad situation, but there a light is shining for a better future," the aid worker said. "At least we feel safe here. We can sleep without fear of losing one of our family members or friends."
*Names omitted for security reasons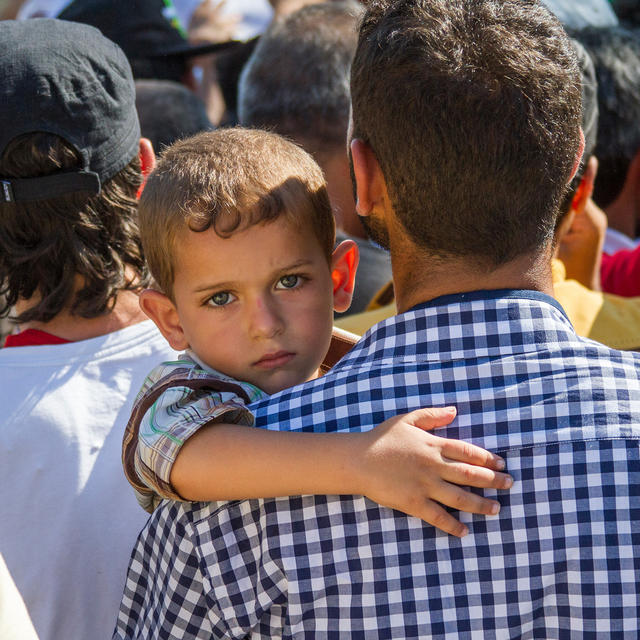 Commit to compassion
Help the IRC save refugee families in crisis. Make your tax-deductible gift today.