Since June 2012, widespread violence between Buddhists and Muslims in Myanmar's Rakhine State has uprooted hundreds of thousands of people. The majority are Muslims who call themselves Rohingya—the world's largest stateless group and one of the most persecuted. The latest violence only makes the resolution of the world's longest civil war all the more elusive. 
See the latest crisis updates: Oct 10, 2017
One million Rohingya currently live in Rakhine and continue to endure waves of deadly violence. The latest outbreak on August 25 resulted in at least 400 deaths and pushed up to 50,000 people into neighboring Bangladesh each day. 
Forced from their homes, nearly 120,000 Rohingya remain displaced in camps and villages on the outskirts of Sittwe, Rakhine's capital. Here they suffer restrictions on movement, marriage, education and religious freedom. And they lack the resources to meet basic needs and rebuild their lives, relying largely on humanitarian assistance for help.
As the largest health care provider in Rakhine, the International Rescue Committee has been working in Myanmar for nearly a decade and in Rakhine camps since 2014, and we are ready to scale up our emergency response to the Rohingya refugee crisis. Humanitarian operations, however, have been restricted in Rakhine State, leaving hundreds of thousands of vulnerable people without life-saving aid and a safe place to call home.
"The cauldron of decades-old ethnic strife has been boiling in Myanmar in recent weeks," said David Miliband, President and CEO of the IRC. "Aid to Rakhine—already one of Myanmar's poorest states—has been suspended as Muslim communities continue to face severe restrictions on their rights, only exacerbating an already critical humanitarian crisis."
Waves of displacement
The Rohingya have faced decades of persecution and violence, repeatedly being forced from their homes in search of safety. Conflict first erupted in 2012, displacing over 145,000 people. Four years later, attacks on border posts near Bangladesh caused more upheaval and increased violence.
In just the last three weeks, more than 400,000 people have crossed the border from Myanmar to Bangladesh. Soon these numbers will reach at least half a million. Mostly women and children, these refugees have attempted to make this treacherous journey on foot or with rickety boats unequipped with lifejackets. Hundreds have drowned on route and many others fall prey to human trafficking.
No safe place to call home
Uprooted Rohingya have found shelter in Myanmar's temporary structures called longhouses, cramming as many as ten families under the same roof. This overcrowding contributes to a higher risk of outbreaks of preventable diseases. In fact, displaced Rohingya are 10 times more likely to contract deadly diseases such as tuberculosis.
"In the longhouse there is only one room which is very small and has poor ventilation," said Ma Hla Hla May, who has been working as a community health worker with the IRC in Da Paing Muslim camp. "There is a small room for washing, but no toilet inside. I feel restricted living in this place. If I want to go outside, it is very difficult."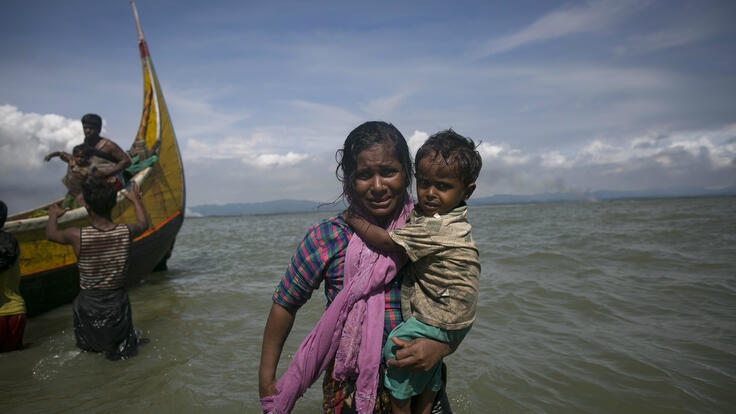 Women, in particular, are in danger of experiencing violence and enduring threats to their health, dignity and safety. In a recent study, the IRC also found clear links between poor shelter conditions and early marriage and psychosocial distress among women and girls.
Myanmar is already struggling to support its people after enduring decades of natural disasters and the world's longest civil war. With at least 600,000 internally displaced people, the country has the lowest life expectancy rate and the second highest child mortality rate in the world. Due to restrictions on movement, these numbers are particularly severe in Rakhine State.
Still, Rohingya fleeing to Bangladesh don't have many better options, as Bangladesh is already host to thousands of refugees at its camps. As a result, incoming refugees are forced to squat in makeshift shelters.
IRC assessing conditions in Rohingya refugee camps in Bangladesh. Arrivals each day mean more aid is urgently needed to support basic needs. pic.twitter.com/eXPn5aFZDs

— IRC Intl Rescue Comm (@theIRC) October 3, 2017
Helping the most vulnerable
Immediate assistance and longer-term aid for the Rohingya refugee crisis is needed now more than ever. Displaced people and other civilians who remain in conflict-affected areas must be protected and given access to humanitarian assistance including food, water and health services.
Across Rakhine and other states, the IRC has been responding to ongoing needs of Myanmar's most vulnerable people to help them survive, recover and gain control of their future. Our team is currently assessing the situation in Bangladesh and in Myanmar, and is ready to support respective governments and civil society actors in urgent relief efforts. In Sittwe, with access granted, we will be able to launch our emergency response in a matter of days to address food, sanitation, protection and health issues.
International donor and agency attention must remain focused not only on the humanitarian situation in Myanmar, but also the displacement sites in and around border regions. We must work to ensure that conditions are conducive to a safe, voluntary, informed and dignified return for all Rohingya who have been forced from their homes.
"Tenable and dignified solutions for some of the world's most vulnerable people remain a distant prospect—only further endangering a democratic peace in Myanmar," said IRC regional director for Asia Sanna Johnson. "More than ever, meeting humanitarian need for the Rohingya and the rest of Myanmar's communities is an urgent and critical step to bringing an end to the world's longest civil war."