This week, Uganda accepted its millionth refugee from neighboring South Sudan.
More than three quarters of these refugees have crossed the border since July 2016, following an uptick in violence in an already bloody civil war. The vast majority—86%— are women and children. As thousands arrived each day with the few possessions they could carry, Bidi Bidi refugee settlement in northern Uganda soon became the largest of its kind in the world.
Uganda could have tried to keep the refugees out, regarding them as a potential burden on a still-developing country. Instead, Uganda and Ugandans embraced the refugees as brothers and sisters who need help and a chance to start a new life somewhere safe. In doing so, they also embraced opportunity: Refugees can bring real economic benefits to their new countries.
One place that embodies this spirit of welcome— and opportunity—is Quality Restaurant in Bidi Bidi, where Zulu Likichio is proud to count South Sudanese newcomers among her employees and customers.
Before the war, Zulu, a widow from Uganda, ran a restaurant in South Sudan to support her children. At that time it wasn't unusual for people from both countries to cross the border each day to go to work. With support from the International Rescue Committee, Zulu rebuilt her business in Bidi Bidi, starting out by catering meals for aid workers who were helping the refugees. "When I first came here, it was not easy for me," she recalls.
Although Zulu had to start out small, she is glad her new restaurant and the employment opportunities it provides have given refugees in Bidi Bidi a chance to settle into their new home. For Zulu, hiring refugees alongside local Ugandans was the obvious thing to do—six of her employees are South Sudanese, "When I saw the refugees, I couldn't refuse them," she says. "They have their financial issues and their problems—so that is why I employ them."
Today Quality Restaurant is thriving, with Zulu and her staff of 15 preparing and serving grilled meat, chapati bread, rice, plantains, sweet potatoes and other dishes popular with customers from both Uganda and South Sudan. Mulondo Ssenkaali, who oversees IRC programs in Bidi Bidi, says the restaurant has even become a local social center. "Refugees come and eat here, so it's the real meeting point between the two communities."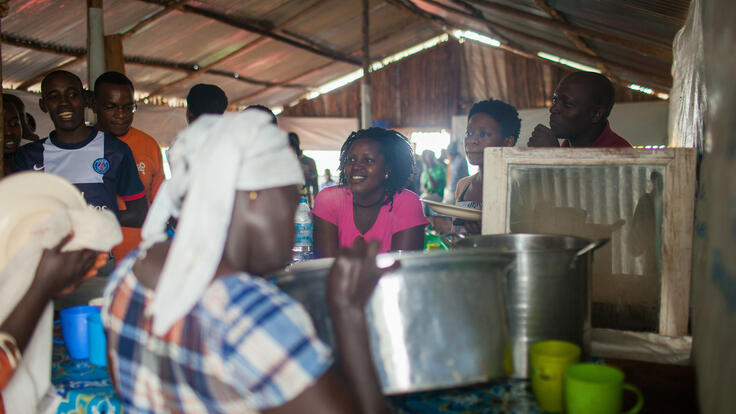 Ugandans still remember the warm welcome their South Sudanese neighbors gave them when they had to flee a war in their own country years ago. "The community here hates to call these people refugees," Mulondo says. "They call these people brothers and sisters." Unlike many countries that accept refugees, Uganda allows the newcomers to move freely, find jobs and work, and resettle on government-granted land.  
Quality Restaurant has become a welcome respite for the refugees in Bidi Bidi, a place where they can relax after their harrowing escape from war and finally feel like their lives are getting back to normal.
As a small business owner, Zulu has seen firsthand that when refugees are able to work they contribute their skills to the labor market, become self-sufficient and spend money that stimulates the local economy. And a growing body of research shows that refugees provide other economic benefits to the countries and communities that welcome them, including by starting their own businesses and creating jobs.
As the war in South Sudan rages on, the IRC is helping refugees in Uganda to rebuild their lives by supporting local businesses like Zulu's and providing emergency cash relief to the most vulnerable refugees. We are also providing lifesaving protection, health care and nutrition services, as well as women's empowerment support, to the refugees and to South Sudanese families trapped by violence inside their country.
Photos by Kellie Ryan/IRC
Learn more