Caught up in a brutal war since 2015, Yemen is on the brink of famine. According to the United Nations, 13 million people are at risk of starvation. Widespread violence, cholera and long-standing poverty have created the world's most severe humanitarian crises.

Sarah Abdulhakim Shamsan, IRC nutritional manager for clinics in Sana'a and Hodeidah, daily faces the grim realities of the widespread malnutrition, near-nonexistent health care, and overall desperation in Yemen. She oversees the screening of children under 5 years old for acute or moderate malnutrition. She also consults with pregnant and nursing mothers about the importance of breast-feeding and when to introduce other foods to help meet their babies' nutritional needs.
 
Now Sarah herself is pregnant with her first child, and the 28-year-old expectant mother fears for the future of her own baby.

"How am I going to raise this baby, in this situation, during this conflict?" she asks. "Even now, I am wondering where I am going to have my baby. There are not that many choices for me if anything happens to my baby—where to go to find health care, the right health care."
How am I going to raise this baby, in this situation, during this conflict?

Seeing severely malnourished children recover fills Sarah with pride and hope. At the same time, she is highly aware of the dangers and risks involved in bringing up a child in the disastrous environment of her war-torn country. Most families cannot afford to feed their children, so even "cured" babies often return to the clinics.
Sarah's anxieties reflect the dire situation in Yemen. Since a Saudi- and Emirati-led coalition launched attacks to try to oust Houthi forces from power, at least 16,000 people have died, 3 million have been uprooted, and 22 million are in need of aid.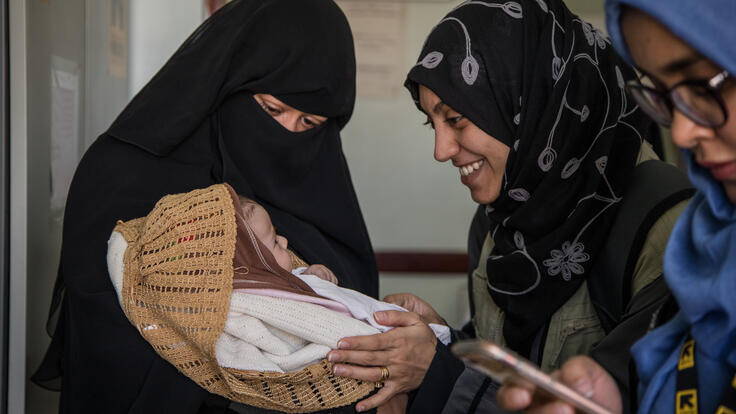 "I got married during the war," says Sarah. "Why? Because it seems like it's not going to end—I cannot stop my life and wait for this war to end. Now I am wondering, OK, if I am having a baby, how is his life going to be? His health, his education, everything."
Prices have jumped as much as 40 percent in Sana'a in the past three months. Everything Sarah buys, cooks and eats is precious—potentially lifesaving. Most meals consist of eggs or beans.
But food, money and health care are hardly Sarah's only concerns. Safety is paramount. Air strikes are a constant threat. And women are not safe outside after dark.
Sarah tries to lead a normal life. "I do normal things—social media, talk to my friends on the phone, watch TV, clean my house, prepare food." Yet every day brings new challenges. "I have my own car," she says. "Because now we have a shortage of fuel, I am just thinking about how I am going to get to work, even though I am living near to the office, 20 minutes away."
She realizes that no attempt at routine, no equivocation, not even her commitment to her lifesaving work, can change the reality of Yemen. "Everything is not normal," she says. "People are dying from hunger. They're dying from diseases. People are not getting their salaries."
We don't want to hear bombing or shooting—we just want peace.
Restrictions on Yemen's ports prevent sufficient shipments of food and fuel from entering the country. Many hospitals do not have diesel fuel to operate generators during power cuts, and ambulances cannot afford gasoline. Stocks of antibiotics and critical medical supplies are difficult to find.
"We don't want to hear bombing or shooting—we just want peace," says Sarah.
The IRC is continuing relief efforts in Yemen, providing health, nutrition, and water and sanitation services to 250,000 people, delivering drugs and medical supplies to hospitals, and training health staff on cholera treatment. We are also calling on the international community to help achieve a lasting peace.