Just over a month after his sweeping "travel ban" hit legal roadblocks, President Donald Trump signed a second executive order that unfairly targeted refugees as a security risk. 
Far from making us safer, the new executive order would help terror groups by providing yet another platform for anti-American propaganda, said the International Rescue Committee in a statement released on March 6.
Now as the travel ban is set to expire, the Trump administration is expected to expand refugee vetting measures that could add months or years to new or existing refugee cases.
Trump has claimed that refugees coming into the United States are not screened. "We've allowed thousands and thousands of people into our country," he said. "There was no way to vet those people. There was no documentation, there was no nothing."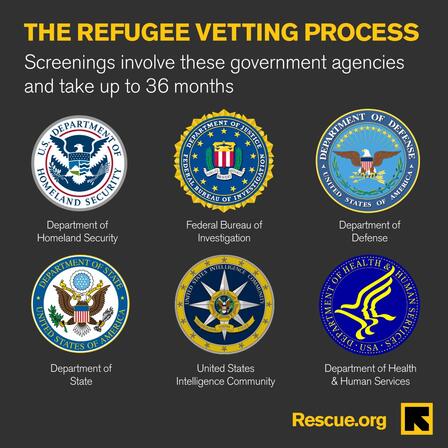 The truth is that refugees—most of whom are vulnerable families fleeing war and persecution—are already vetted more intensively than any other group seeking to enter the U.S. Security screenings are rigorous and led by as many as 15 U.S. government authorities, including the FBI, the Department of Homeland Security and the Department of Defense. 
The process typically takes up to 36 months. Refugees then face further security checks after they arrive. And Syrian refugees must go through extra review steps because of the complexity of the conflict engulfing their country.
To put it simply, refugees already go through the "extreme vetting" Trump has called for to protect the U.S. from terrorists. 
Four refugees assisted by the International Rescue Committee describe the exhaustive interviews and security checks they went through before they arrived:
Shadi, Syria
I understand people are scared, but it took me almost five years to be allowed to come to America. The security process is so excruciating, you feel you may never be accepted."
"The application began a process that stretched over three years, and included over 15 interviews with U.N. and United States officials alone. I was asked the same questions over and over again, but phrased differently. They wanted to make sure I wasn't lying. It was a very intimidating process. You begin to second-guess yourself. I had nothing to hide, but I feared I'd never find a safe life."
Shadi now lives in Boise, Idaho.
Linda, Syria
I believe the screening we underwent was so intense, so thorough and so long that it would be impossible for militants to come here.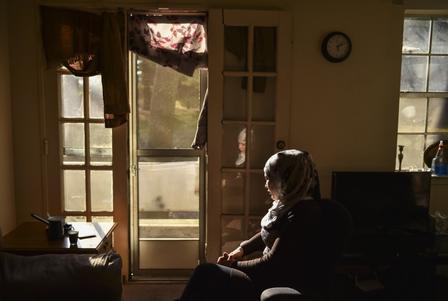 "We were thoroughly vetted before we came here, just like other refugees. Exhaustively, endlessly vetted. The questions were very detailed: about my family, my friends, how I spent my time. The interviewers often knew the answers to the questions before they asked them. They asked about my life going back to the day I was born; they even knew the location of the hospital. My story is my story, so I knew that the details would match their information. But I was stunned by the level of scrutiny and the length of the process.
Each member of the family told their story, and those stories had to be consistent with interviews given by other people who knew us. If our answers didn't match information U.S. officials already had, or if they couldn't validate our information, we didn't progress to the next step."
Linda now lives in Baltimore, Maryland. Read her story in The Washington Post.
Ahmed, Syria
They asked so many questions, I felt my throat was dry because I was talking so much.
Ahmed and his family underwent five separate interviews over two years. The third was the hardest, he says.
"It was a very tough interview. They asked so many questions, I felt my throat was dry because I was talking so much and I asked, 'Who are you guys?' and they said 'FBI.'"
Ahmed and his wife Emtisal were recently reunited with their two adult children, whose arrival was delayed by the first executive order. 
The family now lives near Seattle, Washington. Read their story. 
Mulu, Eritrea
"It's not complicated, we know our story. But they try to trick you."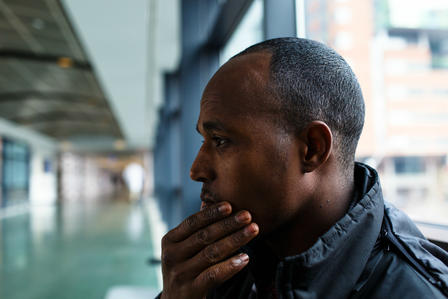 "What month did your father die?"
That was the hardest question Mulu remembers being asked during his screening interviews. He was just a child when he lost in father in late March or April of 2002. 
"It's very scary and very stressful," he recalled. "My mom knows that I may not know, and these things can be seen as discrepancies in our cases. So we all have that fear. We don't know if all the things are going to match up."
"I don't know how much harder it can get," Mulu says of a refugee vetting process that involved years of intensive interviews, background checks and medical tests for each member of the family.
Mulu now lives in Baltimore. Read more about his experience in Business Insider.
Learn more
Walk through the 14-step vetting process with one Syrian family.