Like 750,000 other residents of Mosul, 17-year-old Aya* was forced to flee her home during the battle to retake the Iraqi city from ISIS.
"Before ISIS came, I was already facing lot of problems because I didn't have my mother to guide me," says Aya, explaining that her mother died when she was 12. "Whatever ISIS did over the past two years, I was already living a tough life."
Under ISIS rule, women were forced to cover themselves completely, including their eyes. Their movement was often restricted, separating them from family and friends. Salons and beauty products such as nail polish were banned. Many girls were taken out of school to keep them out of danger. 
Along with her five siblings, Aya fled to the Nargazilia camp northwest of the city, where they live with 15,000 displaced people. Twice a week, she escapes her daily routine and spends time with other girls at the International Rescue Committee's women's and girls' center, a safe, women-only space in the crowded camp.
"I do feel safe here," exclaims Aya, breaking into a broad smile. "I can't wait to come here." 
Along with six other girls her age, Aya is taking a life-skills course, where they learn negotiation and conflict management, for example, and engage in discussions about child marriage, reproductive health, and other topics. The sessions aim to help them acquire the knowledge necessary to take control of their futures and cope with emotional trauma.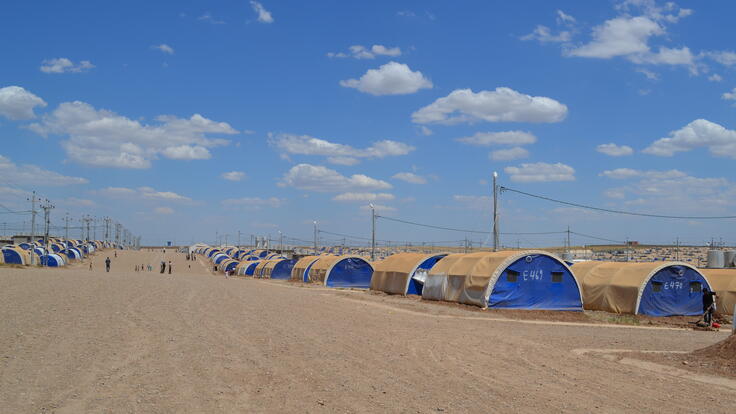 No one in the group attends school in the camp. For some, this is the only time they spend outside their tents, their only opportunity to meet people and escape their day-to-day chores and worries.
Today the girls are discussing problem solving. IRC social worker Narmeen Fareed explains that every problem has a solution, and talks with the girls about the importance of sharing their feelings with people they trust. The session is interspersed with games and laughter. They clearly enjoy their newfound freedom—most have painted their nails.
"After coming to the sessions, I feel a lot more confident and a lot more relaxed," says Aya. "I learn a lot. I want to learn all the things that my mother didn't have time to teach me."
The IRC also provides psychological care and counseling sessions for vulnerable women, and supports committees that empower women and girls as decision makers. Committee members conduct safety audits of the camp, for example, ensuring that women and girls are secure in their temporary home.
"The work we are doing in this camp is not only some of the most important work we have ever done but also some of the hardest," says Siber Khalil, IRC women's protection and empowerment manager. "Women and girls who come to us have suffered greatly for the last two years and need our support urgently."
*Name changed to protect identity.