At four days old, he doesn't yet have a name, or a birth certificate. The young Rohingya boy is embarking on a life already more challenging than most—born an unregistered refugee in the world's biggest refugee camp.
The baby is cradled in his mother's arms as they wait in the International Rescue Committee-supported health center for the newborn's first check-up. "This is the first time I have given birth in a health facility," says Shahera*, who has four other children.
Every day around 60 babies are born in Kutupalong refugee camp in Bangladesh, home to 700,000 Rohingya Muslims who fled persecution and violence in Myanmar. An estimated 80 percent of mothers in the camp give birth inside their makeshift homes rather than in health centers, meaning they don't have access to medicine and are at risk of complications. The shelters, built with bamboo and tarpaulin on steep and crowded hillsides, usually have dirt floors. Often, clean water isn't readily available, so the chance of infection and disease is high. 
"For women who give birth at night, things are even more dangerous," explains Esther Nyambu, the IRC's emergency reproductive health coordinator in Bangladesh. "The steep paths make it hard to navigate, and with the monsoon rains these are now slippery and difficult at the best of times. Much of the camp does not have any lights to guide the mothers to the center."
IRC-supported community volunteers like Fatima go door-to-door in the camp to encourage expectant mothers to visit the center before they are due.  "I went to Shahera's house a day before she gave birth," says Fatima. "I could hear her crying. I asked her why she was crying, and she told me was pregnant and she was in pain. I reassured her and told her that everything is going to be OK. I explained that at the center, you can get medicine without any cost … there is a nurse and midwife who will take care of you."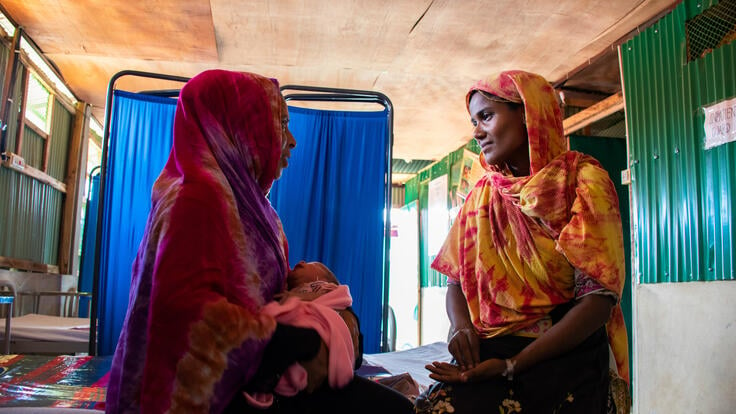 Shahera heeded Fatima's advice. When she went into labor, she sent her husband to the center for help. "Volunteers came to my house and got me," she says. The health team gave her pain medication and, as midwife Shahera Begaum recalls, "lots of encouragement and emotional support so she knew that the delivery would be normal and that she was safe."
"I was overwhelmingly excited about the newborn baby," says Fatima, who has an 8-year-old daughter. "I took the responsibility of cleaning the baby. We were all so busy with the boy. The staff at the center said that now we all have a baby—it is not just her baby but the baby is now all of ours."
Shahera and her husband were grateful for the care and nurturing that would have been otherwise unavailable. "I got strong within two days, but this would not have been possible at home," says  Shahera. "I could not afford all the things I need and there would be no one there to take care of me."
The difficult and dangerous environment in the camp increases the risk of miscarriage, notes Esther Nyambu, "and it's common that mothers don't have access to the vitamins and minerals needed for a healthy baby. After the baby is born, rates of disease and infection are also higher. That's why centers like the IRC-supported comprehensive women's center are so important for both mothers and babies." 
Today the center's staffers are delighted to see both mother and baby—both are doing well, and everyone is celebrating.  "I would tell anyone expecting to give birth to come to the center," says Shahera. "The doctor and the midwives took such good care of me."
The IRC and local partner RTMI provide comprehensive care—including family planning, childbirth services, and psychosocial support and counseling—to hundreds of women at our women's health center in Kutupalong refugee camp.
* First name only to protect identity