The United States has long offered safe haven to people fleeing violence, tyranny and persecution.
But as the Trump Administration slashes the number of refugees allowed into the country, American values, tradition and interests are at stake.
Welcoming refugees is not just a lifesaving humanitarian gesture at a time when more people worldwide are uprooted by war and crisis than ever before. Refugee resettlement also enriches our economy and enhances our national security. Here's what you need to know.
Who decides how many refugees can come to the U.S.?
The president consults with Congress and sets an annual target for refugee admissions. By law, this ceiling shall be "justified by humanitarian concern or otherwise in national interest." The presidential determination is issued before the new fiscal year (FY) begins on Oct. 1.
Prior to the current administration, the average annual refugee ceiling since the 1980 Refugee Act exceeded 95,000. Presidents of both parties have set even higher ceilings: President Reagan twice set a ceiling of over 200,000 to address humanitarian crises, and President Obama set a refugee admissions target of 110,000 for 2017.
How many refugees are being admitted in 2020?
In September, the Trump administration proposed to cut the maximum number of refugees allowed into the country in fiscal year 2020 to just 18,000.
That's the lowest number since the creation of the U.S. Refugee Admissions Program in 1980 and marks the third year in a row that the administration has set the cap on refugee resettlement at a historic low. After decreasing the ceiling to 50,000 the first year of his presidency, President Trump then made further cuts to 45,000 in FY18 and 30,000 in FY19.
Because the president did not sign the FY20 Presidential Determination until November 1, not a single refugee arrived during the month of October. Hundreds of refugees had their flights cancelled up to four times, leaving them in limbo.
"The fact that not one refugee was resettled—and not one refugee family reunited in United States in the month of October—is a remarkable low point with no justification," said Hans Van de Weerd, vice president of Resettlement, Asylum, and Integration at the IRC, in a Nov. 5 statement.
To make matters worse, President Trump further broke with over forty years of precedent by issuing an executive order that required states and local governments to explicitly opt in if they want to continue to resettle refugees in their communities.
Just days after Texas became the first state to opt out of welcoming any more refugees in response to this executive order, a federal judge temporarily halted the policy. Forty-three governors—19 of them Republicans—have already approved ongoing resettlement in their states.
"The ruling recognizes that this harmful and unnecessary administration policy would have further burdened refugees granted the opportunity to rebuild their lives in the United States, and contribute positively to our communities," said Jennifer Sime, senior vice president of Resettlement, Asylum, and Integration at the International Rescue Committee. "It further recognizes that the government did not have legal grounds to delegate resettlement decisions to states, and to cities.""
The executive order failed to take into account the fact that resettlement agencies already consistently consult with state and local stakeholders, and had the potential to fundamentally reshape the U.S.'s refugee resettlement program by effectively creating a patchwork of conflicting policies across the country.
The executive order also threatened to keep families apart and could have left thousands of refugees and others who receive assistance from local resettlement agencies without the routine access to services they need to rebuild their lives.
Why a low refugee admissions number won't suffice
Traditionally, the U.S. admissions ceiling has been set commensurate with global humanitarian need, capacity of the U.S. resettlement program, and U.S. strategic interests.
All around the world, people are fleeing war-torn countries at record levels—25.9 million refugees, over half of whom are under the age of 18.
There's no end in sight to the refugee crisis, as conflicts in Syria, Iraq, Afghanistan, Yemen, South Sudan, Somalia, and northeast Nigeria continue to deteriorate. One person is forcibly displaced every two seconds.
Only those refugees most at risk—just 1 percent of the total—have a chance to resettle in the U.S. or another welcoming country. Most are widows, orphans or victims of rape, torture, religious persecution, political oppression and terror. Some are interpreters in danger because they worked alongside American troops in their countries. Some are persecuted for their religion, or their ethnicity.
Refugee resettlement reflects American values
Presidents of both parties have ensured that America leads in times of crisis: They've supported refugees who seek liberty, and have rejected ideologies opposed to American values.
Republicans and Democrats have raised admissions for refugees fleeing communist uprisings, religious persecution, and tyranny in countries like Vietnam, Cuba, the former Soviet Union, Kosovo, Myanmar and Iran. Today, the U.S. must provide unwavering welcome for people fleeing ISIS and other terrorist ideologies.
Read stories from new Americans.
Refugee resettlement advances American strategic interests abroad
Welcoming refugees helps our allies hosting more than their fair share. In Jordan, 1 in 11 residents is a refugee. The inflow of refugees, mostly from Syria, has overwhelmed Jordan, yet it has kept its doors open. In 2016, it cost Jordan roughly 25% of its annual state budget to host refugees. For more than two decades, Kenya has also welcomed more than its fair share of refugees—hosting Somalis in the world's largest refugee camp. In 2016, developing and middle-income countries generously hosted more than 84% of the world's refugees, while the six wealthiest nations hosted fewer than 9%.
If the U.S. refuses to do its part, we risk other countries closing their borders, shutting down refugee camps, and forcing refugees to return. This would have catastrophic consequences for regional stability and security—including the security of U.S. missions in those regions. But if the U.S. continues to lead on resettlement, this encourages other countries to do more.
Refugee resettlement is secure
The hardest way to come the U.S. is as a refugee. Every refugee is hand selected for resettlement by the Department of Homeland Security and screened by security agencies in an exhaustive process.
See the vetting process in action.
Americans welcome refugees in their communities
Hundreds of communities across the country welcome refugees with open arms. Thousands of volunteers from faith and community groups help refugees adapt to the American way of life. The number of Americans volunteering to assist refugees far exceeds the number of refugees actually arriving. 
In addition, hundreds of employers around the country work closely with resettlement agencies to hire refugees because they are reliable and hard-working.
Read "Hospitable, generous and welcoming: That is what makes America great—not closing our doors."
Refugees are good for the economy
Refugees are entrepreneurs, consumers and taxpayers, contributing to economic growth and creating jobs. Entrepreneurship among refugees is nearly 50 percent higher than among people born in the U.S.
The U.S. refugee resettlement program is designed to help refugees achieve self-sufficiency quickly. In 2016, over 80 percent of refugees in the International Rescue Committee's early employment program were economically self-sufficient within six months. And refugees pay on average $21,000 more in taxes than they receive in government benefits.
Refugees have gone on to become CEOs, ambassadors, and influential economic and cultural figures, including Google co-founder Sergey Brin.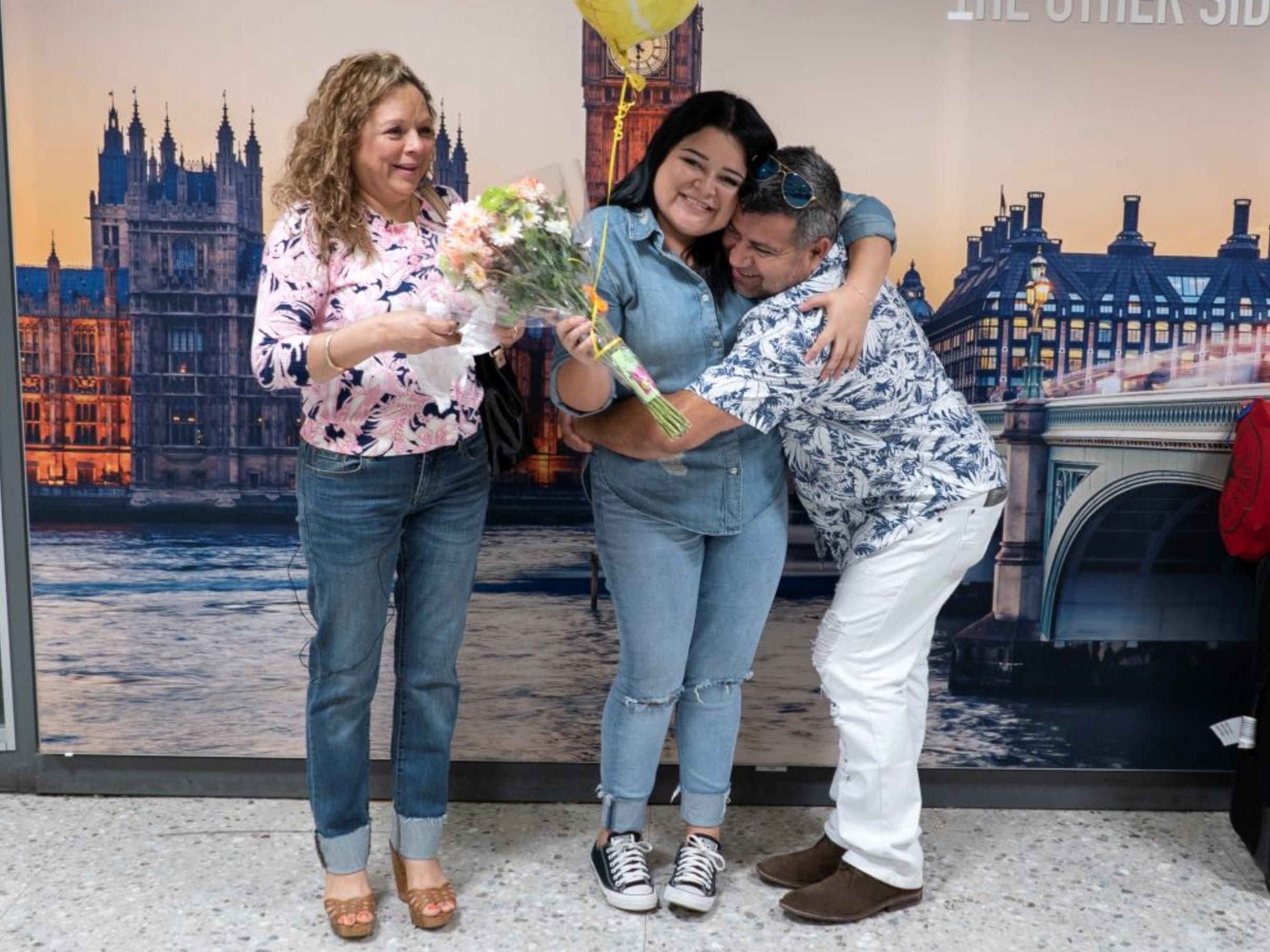 Tell your representative to support the GRACE Act
What can I do to stand for refugees?
Speak out. Call your representative in Congress now to ask that they pass the GRACE Act, which would set an annual refugee admissions floor of 95,000. Take action.